Barcodes
Barcodes are used to represent data that can be read electronically. They come in different forms (1D or 2D) and can be printed via direct-thermal or thermal-transfer using specialized software (e.g. BarTender). In a retrospective study that analyzed data from the emergency department of the Chang Gung Memorial Hospital in Taiwan between August 2006 and July 2008, implementing barcoded labels reduced the percentage of labeling errors by 78%.2 Many other groups, including the US Food and Drug Administration and the College of Pathologists, recommend using barcoded labels to avoid errors.3,4
RFID
RFID uses long wavelengths on the lower end of the electromagnetic spectrum, such as radio waves and microwaves, to scan ID chips. These ID chips can be integrated into labels, making it easy to track samples—without removing them from storage—using a handheld tracking device. RFID labels allow you to store large quantities of data and provides better protection and privacy than other tagging systems.
From 2007 to 2008, Francis et al studied how implementing an RFID tagging system affected the rate of mislabeled specimens in the endoscopy unit of the Mayo Clinic in Rochester, Minnesota. This group found that errors were reduced from 92.9 per 1000 specimens to 5.5 per 1000 specimens only one year after implementing RFID technology.5

Automation
Management tools like Lean and Six Sigma depend heavily on automation to reduce errors. These methodologies were initially developed for companies like Toyota and Motorola to improve the quality of manufacturing performance; while Six Sigma concentrates on eliminating product or service defects, Lean focuses on improving workflow to increase productivity. Clinical labs have used automated systems to eliminate batched sample labeling (a common source of error) and implemented a "first in, first out" system of real-time sample processing. At the Balcali Hospital in Turkey, Inal et al reported a drop from 30% to 3% error rate in sample labeling using the Six Sigma methodology.6 In another study published by K.E. Blick, performed at the Department of Pathology at the University of Oklahoma Health Services Center, a 0% error rate was achieved for analytically processed potassium samples using Six Sigma and Lean.7
Automation has also been proposed as a method to keep track of mislabeled specimens. The College of Pathologists recommends the use of an automated, electronic reporting system, whereby labeling errors are forwarded directly to nurses and clinicians.3 This keeps awareness of errors high so that the medical team can quickly and efficiently correct them.
Bedside printers
Printing labels is one of the most important facets of an efficient labeling system. With a wide choice of printing technology solutions, choosing a printer to suit the application is critical to ensure that specimens are labeled appropriately, without losing durability or legibility, even when stored in cryogenic conditions. As such, label printing is crucial to the operation of healthcare institutions, and having a printer bedside to immediately and accurately label specimens as they are collected is recommended to prevent patient misidentification errors, as technicians may batch samples together before labeling using a centralized printer, leading to mismatch errors.1
Other ways to avoid labeling errors
Some other basic adjustments that healthcare institutions have implemented to cut down on labeling errors include:
Double-check system – Several groups recommend using at least 2 doctors or nurses to verify that the information on the requisition forms and specimen labels match appropriately.1,9
Two unique patient identifiers – The American Association of Blood Banks requires at least 2 unique identifiers and the date of collection for all specimens.10 These identifiers help prevent mixing up samples from different patients.
Additional labeling for small samples – Some samples are small enough that they can get lost when the container is opened. For these, it is recommended that additional labeling be used to warn the staff prior to opening the lid to prevent losing the specimen.10
Overall, avoiding labeling errors in clinical labs doesn't just rest on the technician taking the sample. Providing an error-free environment means improving the systems that are integrated within the framework of the entire department or institute. However, with the proper tools, like printers, barcodes, RFID technology, and automation, hospitals can reduce the number of labeling errors significantly, improving the quality of patient care and saving hospitals and clinics from unnecessary financial costs.
LabTAG by GA International is a leading manufacturer of high-performance specialty labels and a supplier of identification solutions used in research and medical labs as well as healthcare institutions.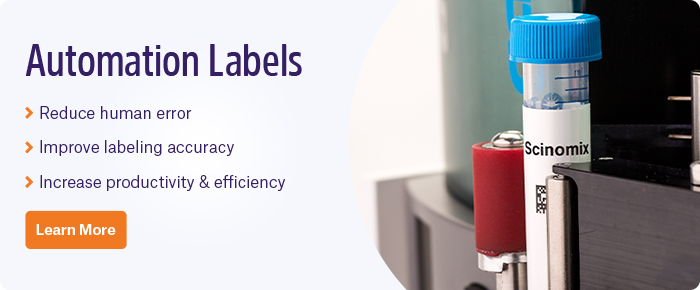 References:
Kim JK, Dotson B, Thomas S, Nelson KC. Standardized patient identification and specimen labeling: A retrospective analysis on improving patient safety. J Am Acad Dermatol. 2013. doi:10.1016/j.jaad.2012.06.017
Ning HC, Lin CN, Chiu DTY, et al. Reduction in hospital-wide clinical laboratory specimen identification errors following process interventions: A 10-year retrospective observational study. PLoS One. 2016. doi:10.1371/journal.pone.0160821
The Problem of Mislabeled Specimens. Northfield, IL; 2010.
Brown JE, Smith N, Sherfy BR. Decreasing mislabeled laboratory specimens using barcode technology and bedside printers. J Nurs Care Qual. 2011. doi:10.1097/NCQ.0b013e3181e4e6dd
Francis DL, Prabhakar S, Sanderson SO. A quality initiative to decrease pathology specimen-labeling errors using radiofrequency identification in a high-volume endoscopy center. Am J Gastroenterol. 2009. doi:10.1038/ajg.2008.170
Inal TC, Goruroglu Ozturk O, Kibar F, et al. Lean six sigma methodologies improve clinical laboratory efficiency and reduce turnaround times. J Clin Lab Anal. 2018. doi:10.1002/jcla.22180
Blick KE. Providing critical laboratory results on time, every time to help reduce emergency department length of stay: How our laboratory achieved a six sigma level of performance. Am J Clin Pathol. 2013. doi:10.1309/AJCPNUTIPQTRRG0D
Kahn SE. Specimen Mislabeling: A Significant and Costly Cause of Potentially Serious Medical Errors. Brønshøj, Denmark; 2005.
Dunn EJ, Moga PJ. Patient Misidentification in Laboratory Medicine. Arch Pathol Lab Med. 2010.
Novis DA, Lindholm PF, Ramsey G, Alcorn KW, Souers RJ, Blond B. Blood bank specimen mislabeling: A college of American pathologists Q-probes study of 41 333 blood bank specimens in 30 institutions. Arch Pathol Lab Med. 2017. doi:10.5858/arpa.2016-0167-CP