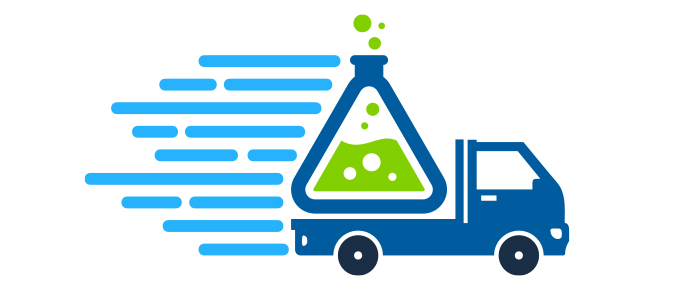 While setting up a lab from scratch can be crucial to optimizing performance, lab relocation can be just as important. Whether you're expanding into a new space, renovating your existing lab, moving operations, or consolidating labs, laboratory clean-out and relocation can be complicated and costly. It requires careful planning in order to coordinate timelines, satisfy regulatory requirements, and ensure your equipment and samples aren't damaged when you move your lab.
The Initial Plan
When establishing your initial plan, you should consider whether the lab must remain in production, fully or partially, during the move. While a single-phase move, consisting of a complete production shutdown, is far simpler to coordinate, productivity demands may require at least a part of the lab remain functional during the transition. Another important factor is access to the new lab and facility. Certain areas may have restricted access or limited availability during the day and/or night. A floor plan of the new space is invaluable, as it provides accurate measurements of available space as well as passages, elevators, stairs, and door frames.
When planning on how to move equipment and samples, care must be taken moving hazardous material, frozen containers, and live animals. Depending on the value of the samples, it may be more cost-effective to simply replace certain items. Moreover, an oft-overlooked factor to consider is the disposal of items not designated for relocation. Here are some additional things to consider:
Cold storage transport: Most labs store samples under cryogenic conditions, in lab freezers or liquid nitrogen tanks. These samples may have exact temperature ranges and requirements that make transport in a refrigerated truck insufficient. To maintain the integrity of ongoing research during the move, it is essential to put the proper cold storage transport procedures in place.
Chain of custody: If your lab handles samples or specimens that require chain-of-custody documentation, ensure the chain is maintained during transport. This may necessitate arranging for an escort to maintain the chain of custody for certain items.
Hazardous materials: The transport of hazardous materials is tightly regulated. As such, it is highly recommended to consult authorities in order to obtain information about the legality of transporting these materials. In addition to legal concerns, safety considerations should also be considered. If possible, open containers of solvents and hazardous materials should be completely used up or disposed of prior to moving, and new containers should be ordered for the new lab.
Live animals: Transporting live animals poses its own challenges, as they require food and water and must be cared for during lengthy trips. The equipment used to house the animals is not typically suitable for transport purposes and often requires replacement. Moreover, some animals may also require chain of custody documentation, and the move can cause undue stress on the animals, which may affect ongoing (or even future) experimentation.
Instrument calibration: You may need to speak with your suppliers to determine what instrumentation is currently covered by service contracts. If possible, have certified professionals come recertify/calibrate your instrumentation following the move. Smaller equipment, like balances, may be calibrated in-house, without the need for a specialist.
Comply with regulatory requirements: Before starting the relocation process, you must account for regulatory compliance protocols. The specific protocols for your lab may be industry-specific, such as GMP, FDA, and ISO. All instrument warranty and service contracts must also be reviewed. Ensure all documentation is up-to-date, and try to meet any regulatory compliance requirements in the early phases of the relocation process.

Communication
You should ensure that all affected parties are aware of the upcoming move and any critical dates associated with the relocation. This includes not only the date of the move itself but also when specific equipment will no longer be available, when freezers will be moved, or if access to animals will become restricted. The facility managers at both your current site and the new one should be kept in the loop, as they will likely be involved in overseeing utilities connections/disconnections, providing adequate staging areas for packing crates, and knowing when loading docks will be made available.
A successful move requires the input of several different stakeholders, including technicians and professionals in HVAC, electrical, compressed gases, IT, and networking. Contractors are key to most relocations, particularly when installing new lab furniture or instruments. Finally, members of your own team should be aware of critical details of the move so that they may plan their experiments around equipment downtime as well as what their role is during the move itself. This will keep disruptions to a minimum and help get the lab up and running as soon as possible once the move has been completed.
Lab Relocation Providers
A successful lab relocation can take up to six months or more of planning and preparation. Given the multiple parties involved, and the need to move sensitive equipment that can be very fragile and quite expensive, a standard moving company would not be able to handle this type of move. It is highly recommended that lab relocation specialists are engaged, as their expertise can minimize the move's impact on lab productivity. Their knowledge of safely packing and moving specialized instruments, from spectrophotometers to cell sorters and mass spectrometers, differentiates them from other moving companies and provides a valuable investment in protecting your equipment and saving time. Moreover, they can always help coordinate subsequent calibrations, validations, and certifications once the lab is finally moved.
LabTAG by GA International is a leading manufacturer of high-performance specialty labels and a supplier of identification solutions used in research and medical labs as well as healthcare institutions.