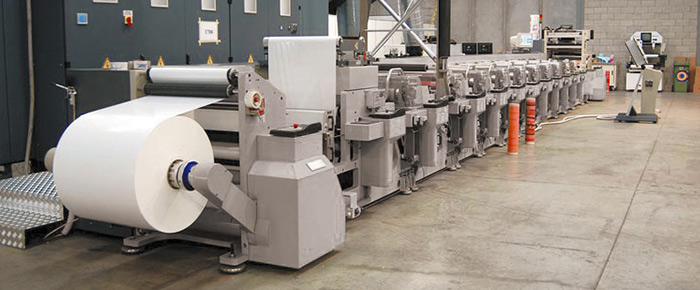 When it comes to printing large volumes of labels or packaging, a printing press is often the best solution. In the past, options were relatively limited; nowadays, many options are available, such as offset lithography, screen printing, and even 3D printing. However, flexographic and digital printing continue to lead the way.
What is flexographic printing?
Also termed flexo for short, this type of printing utilizes flexible printing plates made of either rubber or photopolymer, called "relief" plates. These plates, wrapped around relatively large cylinders on a press, rotate at high speeds, with controlled amounts of ink transferred from a fountain roller to a specialized ink-retaining roller, then to the plate. The plate then comes into contact with the substrate (i.e., labels) to generate a printout. Overall, the system is very similar to that of traditional letterpress. The flexographic printing process can be used to print on plastics as well as paper, cellophane, metals, and other materials.
Flexo printing is generally well-adapted to printing high volumes of labels and packaging because of its fast run speeds and short printing times. Printing plates are also quite adaptable, capable of utilizing a variety of ink types and printing on nearly any type of surface. The price of running flexo printing is relatively low for large orders since most of the costs are related to setup and printing, while varnishing, laminating, and die cutting can be performed in a single run, mitigating the need for additional work. However, time and efficiency may be hindered by the need to change graphics frequently. When changes are required, a new plate needs to be made, making set up a longer process.

What is digital printing?
Digital printing is a more recent method that covers various different techniques including, but not limited to, inkjet printing and laser. The main difference between digital and flexo is that images used in digital printing are sent from a computer file to the printer, which doesn't require the use of printing plates to generate the image. Because it doesn't require plates, digital printing affords more flexibility regarding any changes applies to the printout as additional plates aren't needed, only a few clicks. Digital printing also allows businesses to print on demand, great for small-run jobs, as orders can be placed for as little as one print. Because of this, digital printing usually provides fast turnaround times for label production. For smaller orders, the price per label is lower than flexo printing since there are minimal setup costs. There are also a number of additional digital printing techniques aimed at specific markets, with two of them accounting for the majority of digital printing performed in the industry.
Inkjet: This method creates a printed image by using small droplets of ink propelled from the nozzles of one or more print heads. Able to print on a variety of substrates, including paper, plastic, canvas, or even doors and floor tiles, it is often used for posters and signage. While the ink used in inkjet printers can be expensive, it is often economical when used for short-run publications, such as photo books. Moreover, in-line inkjet printers can be combined with other types of printing presses to print variable data.
Xerography: Xerographic printers, which include laser and LED printers, produce images by selectively applying a charge to a metal cylinder via a directed source of light such as a laser beam or LED array. Primarily used in offices, these printers can also be used for small-run printing of books, brochures, and other documents. Xerography may also be used for printing financial documents, such as bills, bank notes, and other transactional papers.
Which one should you choose?
Flexographic printing is generally recommended for large printing jobs where graphics don't change much, if at all. This can include:
Packaging and labels
Items that require a continuous printout, like wallpaper or gift wrapping
Static information
Uneven surfaces
The need for specific types of ink
Digital printing is more often recommended for small-to-medium jobs, where graphics may require frequent changes. Digital printing is an economical printing method that still produces high-quality printouts. It's generally great for:
Posters and other promotional material
Signage (e.g., warning signs)
Labels
Pamphlets and newsletters
Variable information
Serialized, database-connected data
LabTAG by GA International is a leading manufacturer of high-performance specialty labels and a supplier of identification solutions used in research and medical labs as well as healthcare institutions.