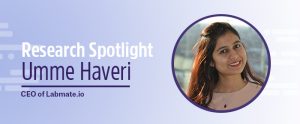 This week's Research Spotlight focuses on Umme Uzma Haveri, a former Master's student turned entrepreneur who founded Labmate.io, a company that develops software to help better manage bioscience laboratories.
Oncoviruses to target cancer
Though born in India, Ms. Haveri's initial foray into scientific research occurred in Germany, at Martin-Luther University (MLU) of Halle-Wittenberg. She enrolled in a pharmaceutical and industrial biotechnology program there, which gave her a better understanding of regenerative medicine, drug development, and bioprocess engineering. However, there was one topic that she took a specific liking to, "While I was interested in all subjects, cancer research was of extreme importance to me. My grandfather passed away due to throat cancer, and for me, the worst thing was that it was diagnosed at a late stage. Since then, I've had a mind for cancer research."
However, she began to explore further opportunities outside MLU to study cancer biology or pharmacology. "Since most labs at MLU did not work on cancer research, I started applying outside the university for an internship. I was lucky to get into an international program at DKFZ in Heidelberg, which was a 2-month internship, and based on my performance, I was then offered to continue my Master's thesis there, working in tumor virology."
"I decided to stick with my lab at DKFZ because of how novel the research was. We were attempting to attack tumor cells in two ways: we used an oncovirus, which only infects cancer cells, to destroy them, and we equipped the virus with the means to inhibit programmed cell death ligand-1 (PD-L1) signaling. This stops the tumor's ability to neutralize the human immune system, allowing it to kill cancer cells more efficiently."
Therapies targeting PD-L1 have been a hot commodity over the last several years, particularly in oncology with several therapies, including Keytruda®, IMFINZI®, Opdivo®, and TECENTRIQ®, that inhibit the programmed cell death-1 (PD-1)/PD-L1 axis. These strategies effectively prevent tumors from inhibiting T-cell mediated destruction, neutralizing the inhibitory effect of PD-1/PD-L1 signaling. While most therapies target the proteins directly with antibodies, Ms. Haveri was working on one that knocks down gene expression.
"We used a basic method of knocking down gene expression, similar to shRNA, imported into cancer cells through the virus. That way, we specifically target those cells and reduce expression of PD-L1, allowing T cells to increase function and kill the tumor cells. We worked with this system using prostrate, brain, and lung cancer cell lines, with our best results obtained for brain cancer cells."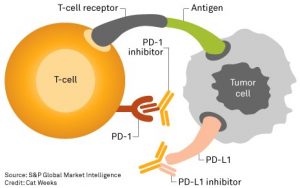 From scientist to entrepreneur
Once her Masters' thesis was nearing completion, Ms. Haveri decided to make the leap from student to entrepreneur, founding her own laboratory management software company, Labmate.io. Though it's only available through early access thus far, her goal, once the software is fully updated, is to offer a complete solution for labs that can standardize data entry, assign tasks, manage metafiles, inventory, and workflow while enabling labs to collaborate remotely.
"Our industry is under-resourced and very few tech companies make relevant tools for us to use in the lab that solve basic data management problems. Many still use MS Excel/MS Office and some variety of a laboratory information management system (LIMS). If there are complete solutions available, they are often too expensive for a typical academic lab to afford and are extremely non-intuitive to use. So, I declined PhD offers and came back to India to build labmate.io for the biomedical industry."
Her motivation to start such an ambitious project came from experiences in her own lab, where she ran into many common lab management issues plaguing academia. "One of the main problems I had was searching for reports in emails and various folders on the intranet. I also had to wait for my supervisor to discuss any pertinent issues, and some of the samples in our freezer were not linked to experiments, and if they were, then you had to identify the samples with a piece of paper or labels with no proper description. How many samples can be "A1"? You forget where you placed everything after 2 months! There's always the fear of losing vital samples and data."


When I asked what would make her software stand out from others currently on the market, she said labmate.io would focus on providing an intuitive solution designed specifically for lab personnel. "As I interviewed fellow scientists in various other labs to understand their problems, I realized that they were largely unaware that the inefficiencies in the current system can be solved, and they were excited to discover labmate.io. Many currently available LIMS are not just expensive but complex and non-intuitive to use as well!"
She also stressed that a user-friendly interface would go a long way to helping solve as many problems as possible. "One of the most underplayed features of a good laboratory management system is the user interface. Our platform can offer great features, but if the interface isn't intuitive and pleasing, scientists won't be satisfied with the product."
So, where does Ms. Haveri want to go from here?
"My life's main goal has been to make a difference in society. While cancer research brought me extreme satisfaction, I wanted to have a larger impact, so I pivoted to building something that the entire biosciences ecosystem could benefit from. Hopefully, all the hard work I've put in will help accomplish this by helping out my fellow scientists."
LabTAG by GA International is a leading manufacturer of high-performance specialty labels and a supplier of identification solutions used in research and medical labs as well as healthcare institutions.