Why a LIMS might be right for your lab
In practice, there can be as many LIMS platforms as there are research labs. As the needs of each lab vary greatly from the next, the criteria for an effective LIMS varies as well. The most obvious reasons to integrate a LIMS into your lab are increased efficiency and more effective organization. Having everything in one place that can manage inventory, coordinate workflow, track samples, and analyze data will ultimately speed up performance, reduce mismanagement of supplies and labor, and avoid lab errors. The main functions performed by LIMS are:
Reception and logging of a sample with its associated data
Assignment, tracking, and scheduling of the sample's analytical workload
Quality control associated with the sample and any utilized equipment
Storage of data acquired from any performed analyses
Compilation, inspection, and approval of data for reporting and further analysis
There are other advantages to using a LIMS, particularly for pharmaceutical, biotechnology, and other industries. Just like drug production, data also has good manufacturing practices (GMPs) that must be strictly adhered to, especially when it comes to companies whose practices are regulated by the US Food and Drug Administration (FDA). The FDA stipulates that there must be an "audit trail" for data, meaning that data must be recorded when an entry is created, modified, or even deleted. The data must also retain its integrity, without being corrupted, and must be secured to prevent tampering.1 As such, it's important to make sure the LIMS you use contains features that monitor and record all data, regardless of what stage of development you're at while keeping it safeguarded.


Sample tracking with LIMS and labels
Barcode labels are an indispensable part of a functional LIMS. Without the use of barcodes or radio-frequency identification (RFID) labels, it would be impossible to properly track samples or to automate analytical workflows, as you would need to manually enter information at every step of the analysis. The ability to create detailed and accurate sample records, in combination with a secure identification solution, reduces the risk of mix-ups or lost samples. This is achieved by the LIMS allowing you to enter essential information about a test sample, such as its source, identity, as well as the date, time, and location of preparation. As the sample moves through the given lab's testing process, the LIMS should note where the sample is in that process. As well as tracking tests, the LIMS should also be able to schedule testing, allow the results to be transferred to other systems in the supply chain, as well as generate reports for the purpose of analysis and quality control. Moreover, specialized labels that can withstand any environment (e.g. cryogenic, sterilization, chemical exposure) are available to ensure your labels remain attached and legible at every step of the procedure.
Features to look for in a LIMS
Some key features of an efficient LIMS include:
Intuitive user interface eliminates the need to spend a lot of time learning a complex system
Add-on compatibility provides seamless integration for various add-ons
Real-time backup ensures your data remains secure and enables the recovery of any lost data
Open API provides developers with the ability to improve the programming of the system
A modular system that can adapt and change with your lab also has several advantages to a more traditional, localized LIMS. This type of flexible system can be modified, both by the end-user as well as the software provider, much more readily, allowing it to better serve the lab's needs over time. It also provides more options for how you interact with the system, with greater customization.
Cloud-based storage and tracking
A cloud-based LIMS, where all information is stored on dedicated servers, is especially advantageous for labs with multiple users. Cloud-based systems require little hardware and software to be installed locally, making set-up quick and lowering the cost of ownership. By allowing colleagues to be assigned to various projects, they also make it easy to share data and workflows, even across labs, as each collaborator can access information from the LIMS anytime and anywhere. You can also make changes to your LIMS remotely, and updates are performed automatically by the company that manages the software so that you don't waste time updating it yourself (which usually requires shutting down the LIMS temporarily if you update on your own). Furthermore, implementing a cloud-based LIMS with apps for both Android and Apple, in combination with 2D barcoded labels, allows you to scan samples and toggle with the settings of your LIMS all from the convenience of your cell phone, regardless of its operating system.
Choosing a LIMS depends on the needs of your lab. However, certain features, such as barcoded labels and a cloud-based flexible modular system, are critical no matter the size or function of your workspace. With the right software in place, you can increase the pace of your research, production, and analysis, while preventing errors from creeping into your data.
LabTAG by GA International is a leading manufacturer of high-performance specialty labels and a supplier of identification solutions used in research and medical labs as well as healthcare institutions.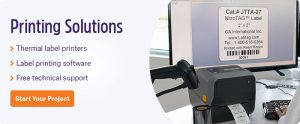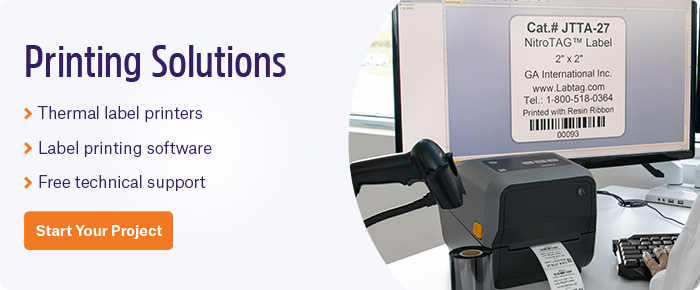 Reference:
US Food and Drug Administration (FDA). Data Integrity and Compliance With Drug CGMP Questions and Answers Guidance for Industry. Silver Spring, MD; 2018.