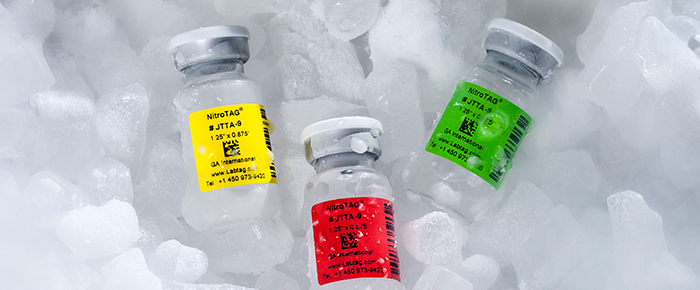 The cold chain has been a topic that has been discussed recently in regards to the new vaccine from Pfizer. However, what exactly is the cold chain, and why is it challenging to implement and maintain. We will define what the cold chain is, go over some of the challenges faced when establishing sustainable cold chain management, and what equipment is required.
What is the cold chain?
The cold chain is a temperature-controlled supply chain that unites an uninterrupted series of refrigerated production, storage, and distribution activities. This also includes the process used to maintain optimal conditions during each step, along with any associated equipment and logistics, to ensure perishable products' quality and safety from the point of origin through the distribution chain.
Logistic challenges of the cold chain
Cold chain management is a process that involves performing a chain of tasks to prepare, store, and transport products along the cold supply chain. This management chain has three main components that must work properly: efficient management procedures, trained personnel, and suitable storage and transport equipment.
Proper management starts with ensuring ample monitoring procedures are in place, and personnel is adequately trained to follow those guidelines. This involves continually monitoring that temperatures remain within a specific range and having accurate tracking information for all products. In addition to temperature, certain products within the cold chain may also require other environmental parameters to be measured, such as humidity and exposure to light. Two technologies that can make managing the cold supply chain easier is min-max thermometers and data loggers. Min-max thermometers make a record of the minimum, and maximum temperatures reached during storage or transport, while data loggers record the history of temperature fluctuations over a given time. Data loggers can also be wireless and web-based for remote monitoring, with records being routinely printed for your archives. At least one member of your staff should be assigned the task of regularly checking the condition of the cold chain.
Furthermore, any products or samples in the cold chain must also be tracked. The gold standard for tracking is currently the use of barcode labels, along with scanners and information management software. However, this still requires that each item be individually scanned, which is why smart labels have begun to replace barcodes as the preferred tracking method. Smart RFID labels can provide constant real-time information on the status of products, including their location and environmental conditions. The advantage of RFID labels is their ability to emit an omnidirectional signal that can be read without direct line of sight, meaning products do not need to be removed from cold storage to be scanned. There are even smart labels that will change colors if exposed to varying temperatures, providing a visual aid for products that have been exposed to a broken cold chain.

Cold chain equipment
A sustainable cold chain requires specific specialized equipment to be used throughout the chain. Storage and transport necessitate cold rooms, freezers, refrigerators, and cold boxes to maintain the products' temperature. For storage, cold rooms, freezers, and refrigerators are required depending on the temperature-controlled products' temperature requirements. For instance, frozen vaccines need to be kept in freezers between –15°C (+5°F) and –50°C (-58°F), while refrigerated vaccines can be stored in cold rooms and refrigerators at between +2°C (+35°F) and +8°C (+46°F). When transporting items in the cold chain, insulated containers such as cold boxes and vaccine carriers should be used, or when possible, refrigerated trucks can also be employed. A refrigeration truck is a van or truck designed with a refrigeration unit to carry perishable freight at specific temperatures and mainly used in the cold chain industry.
Another necessary piece of equipment that can often be overlooked is cryogenic labels. Proper identification is of paramount importance, especially when transporting vital drugs or vaccines. If the vaccine label fails or becomes smudged, the product is rendered unusable. As such, cryogenic labels that can withstand extremely cold temperatures, down to -196°C, multiple freeze-thaw cycles, and damp humid conditions without losing adhesion or readability is key. These printable labels can also be printed with 1D or 2D barcodes for tracking purposes and even outfitted with RFID inlays, serving as smart labels. Specialized cryo labels that adhere to already frozen containers, tamper-evident labels that will destruct if removed, and transparent labels that allow containers' contents to remain visible are also available. They are a versatile option, vital to the success of any cold chain-of-custody management solution.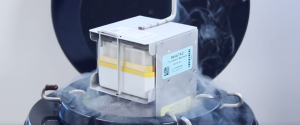 Consequences of a broken chain
The refrigerated warehouse industry brings in over 6$ billion a year and handles in excess of 260 billion pounds of perishable products in North America alone. As such, failing to maintain optimal temperatures at every step of the cold chain can have disastrous consequences and costly outcomes.
There are numerous consequences to a broken chain. The primary concern is product degradation. Failure to maintain an adequate temperature range across the chain can compromise the integrity of the shipment, rendering the products unusable. This leads to product waste and financial losses, as the items will need to be replaced. For commercial products, this could cause the deterioration of business partnerships, and customer confidence, further exacerbating the potential lost revenue.
This is also the case when dealing with vaccine storage and transport. The consequences of an impaired medical supply chain can be even more dangerous, affecting people's lives. In addition to monetary concerns, a mismanaged cold chain could affect the potency of the vaccine. Lost vaccine potency cannot be restored once lost, requiring the vaccine to be disposed of. In cases where the failure to maintain the necessary cold temperature conditions goes unnoticed, or vaccine information labels fail, patients may need to be re-immunized. This means the vaccine would have to be re-manufactured, shipped, and administered at additional cost to the manufacturer.
LabTAG by GA International is a leading manufacturer of high-performance specialty labels and a supplier of identification solutions used in research and medical labs as well as healthcare institutions.