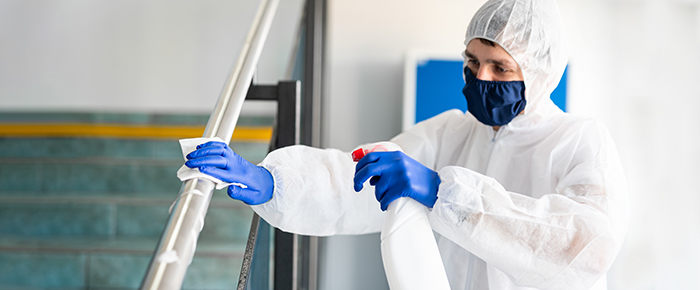 Researchers, technicians, and students working in scientific research labs must wear various personal protective equipment, depending on the task they are performing, due to the various hazardous substances found in the laboratory environment that may negatively impact their health. In fact, exposure to toxic and hazardous substances is the third leading cause of injury in the lab, making personal protective equipment a necessity for any laboratory environment.
The need for personal protective equipment (PPE)
PPE comes in various forms and serves to protect scientists from harmful substances like infectious materials and toxic and corrosive chemicals, as well as to keep environments sterile, such as animal housing rooms.
Lab Coats: Lab coats should always be worn while in the lab to protect the user when handling chemicals, biological material, or unsealed radiological sources.
Eye Protection/Safety Glasses: Safety glasses are recommended when entering any wet bench lab, including cell culture labs, and should be worn over prescription glasses.
Face Protection: Face shields may be required to be worn over safety glasses for certain techniques, including some cryogenic procedures like liquid nitrogen handling.
Chemical-Resistant Gloves: Nitrile gloves are the most commonly used type of glove for general purpose applications. They are preferable over latex gloves as they offer some chemical protection and do not pose a risk as an allergen. Gloves should always be worn when handling chemicals, cell culture, biological samples, or animals. When removing nitrile gloves, do so in a way that avoids the contaminated exterior of the gloves contacting the skin, and dispose of them properly.
Gloves for Heat/Cold: Thermal gloves may also be necessary for cryogenic applications or for handling hot labware, needed during hot work processes like producing agarose gels.
Respiratory Protection: A simple surgical mask is sufficient in most cases, like when weighing chemicals. A respirator or air purifier with an N-95 filter should only be used when there is a high risk of breathing in harmful gases, vapors, or microscopic particles.
The quality of PPE currently available should also be considered. PPE like gloves, lab coats, and masks must undergo rigorous physical testing to ensure they provide the necessary level of protection. In addition, there are specific regulatory requirements they are expected to meet, as well as standards set by other organizations, like the American Society of Testing and Materials (ASTM) and the International Organization for Standardization (ISO), that should be taken into account. In practice, the UL Mark is widely recognized and respected as a symbol of certification to the highest safety standards within the PPE market.

Evaluating PPE efficiency
The most common approaches to testing the chemical resistance of PPE are penetration, permeation, and degradation testing.
Penetration: Acts as a defect test that focuses on whether a chemical penetrates through a material due to lack of a chemical barrier.
Permeation: Tests whether a chemical passes through a material due to changing its inherent properties. This can be difficult to detect but is more dangerous, as a chemical can be absorbed into the material, diffuse across, and come in direct contact with the user.
Degradation: Tests whether a material undergoes any physical changes when exposed to chemicals, such as changes in composition, elasticity, texture, and more.
The combined results of these three tests provide a relatively accurate picture of the efficiency of PPE material. However, these tests cannot fully address whether a particular PPE material is suitable for every application. This is due to the fact that real-life uses might differ compared with testing conditions, only a portion of the material is tested, and there are different testing parameters for separate regulatory standards.
Improving PPE & Lab Safety
To better assess the efficiency of laboratory PPE, the use of permeation analyzers using standardized and automated processes helps ensure testing accuracy and product safety. Permeation analyzers measure the gas or vapor molecules that transmit through materials under controlled conditions. Newer automated systems have introduced slight modifications to make the testing process more accurate and efficient; this was recently made necessary by the COVID-19 pandemic, which caused heavy supply chain issues, affecting PPE supply.
Automated permeation analyzers can run several test samples simultaneously and under different conditions. Depending on the regulatory requirements, the analyst can monitor temperature, conduct analysis in triplicates, control gas flow, automate introduction of the challenge chemical, and even initiate shutdown processes once the breakthrough point is reached. They can even automate analysis using custom software. This means the next sample can be processed before the previous one is finished, thereby increasing testing efficiency.
LabTAG by GA International is a leading manufacturer of high-performance specialty labels and a supplier of identification solutions used in research and medical labs as well as healthcare institutions.