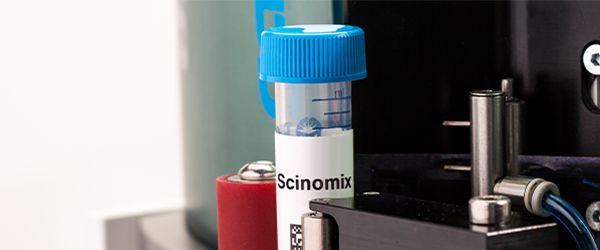 Many labs are inundated with a high volume of samples on a regular basis. Pharmaceutical and biotechnology labs can process thousands of samples daily, while medical labs are regularly bombarded with patient specimens. Because tube labeling can take up a significant portion of your day, having a system in place that can streamline the process is a necessity. For large labs, that includes labeling automation using automated print-and-apply systems.
What you should look for in an automated labeling system
When dealing with a high number of samples to label, the best solution is to use an automated labeling system. Most systems, including the Sci-Print series from Scinomix, will fit a variety of different tube sizes, from 0.5 mL to 50 mL, with an option to handle standard and honeycomb microplates. Custom plates can also be produced on demand that are guaranteed to be compatible with the labeler, giving you a broader range of options. On average, these types of systems can handle several hundred tubes per hour, so they're well-suited for labs that process thousands of samples at once. They can also be fitted with accessories that will remove the caps from your tubes, fill them with solution, then recap them.
There are a few options with regard to the printing capability of the system. Print-and-apply systems can print thermal labels from rolls and automatically apply them directly to any number of tubes. Some smaller print-and-apply systems, like the Sci-Print SOLO, require you to manually load each tube into the holder to label it. These types of systems can often be incorporated into other liquid handling machines, like the Tecan EVO. Other automated tube labeling systems do not include an option to print labels, so the labels must be printed beforehand and loaded into the labeler. Machines that print labels use a thermal-transfer printout because of its resistance to a variety of laboratory environments, such as cryogenic storage, sterilization, and chemical exposure.
Many of these systems can be combined with a barcode reader that will process your sample once it's labeled. Barcode labels are a must in any lab, as they help track your samples and inventory and increase sample traceability. Furthermore, for labs that process thousands of samples, barcodes are a means of maintaining an efficient workflow, particularly when used in combination with a laboratory information management system (LIMS). It's also important to use labels that are specialized for automation and that withstand harsh laboratory environments to ensure your labels are properly applied and remain affixed to the container.
It's also worth verifying the software your automated labeler comes with. If the company develops its own software, it's important that it be compatible with your LIMS, so that workflow isn't compromised. It's also helpful to have a program that can toggle with customer work lists to pull up data.


Automated slide labelers, not slide printers
Slide printers, which automatically print information on microscope slides, are another type of automated identification system. These are used primarily in histology when many slides require labeling prior to staining and analysis. However, these types of machines are not always ideal for histology as the printout does not withstand most harsh chemicals that are used in histochemistry, such as xylene, hematoxylin, and eosin. Instead, it's recommended to use automated slide labelers, which print and apply labels to the slides, as they provide an overall higher resistance to harsh solvents.

How automated labeling systems increase productivity  
Automation in the lab is designed with the purpose of saving time. Automated labeling systems are no exception, as they save you from tediously writing and laboriously applying labels to tubes and slides. They allow you set up your tubes, labels, and buffers, turn the machine on, walk away, and perform other tasks while your hundreds or thousands of tubes are labeled in a more consistent manner compared with hand labeling. The consistency of automated labeling machines provided by companies like Scinomix also help significantly reduce labeling errors. For labs that process thousands of samples per day, these errors can be quite costly and can result in patients receiving false test results as well as ruining large-scale experiments. For pharmaceutical and biotechnology companies, these errors can wreak havoc on the supply chain, since everything, including mislabeled products, needs to be accurately accounted for and documented. Automated labeling systems can also reduce repetitive stress injuries caused by writing and labeling thousands of small tubes. Overall, automated labeling systems will save time, money, and manpower, making your lab more efficient and increasing its productivity.
LabTAG by GA International is a leading manufacturer of high-performance specialty labels and a supplier of identification solutions used in research and medical labs as well as healthcare institutions.