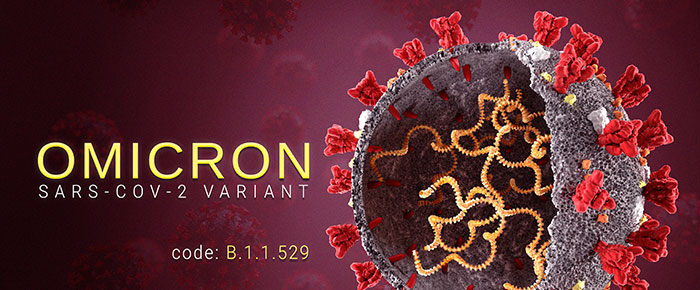 The recent surge in COVID-19 omicron variant cases represents one of the biggest challenges to the pharmaceutical supply chain. A massive uptick in cases across the globe, driven mainly by this variant, indicates that it's much more transmissible than the delta variant, which means that many more people will likely be infected than ever before. Regardless of the strain, the number of people quarantined has climbed, and many governments are implementing strict lockdowns, which is bound to put a massive strain on businesses as they work to fill gaps during production. Though identification technologies are not a direct solution to this immediate problem, implementing new methods may help alleviate some of the strain placed on the supply chain, by this variant and for the next to come.
Omicron might exacerbate an already stressed supply chain
In manufacturing facilities, people need to work in person, close together. This has led to numerous delta variant outbreaks, causing computer chip and other factories to shut down; considering how fast the Omicron variant spreads, the outbreaks are likely to be even greater in the coming months. As such, any recent improvements that have been made to supply chains are at risk of backsliding. However, lessons learned from the last wave can still be applied to help mitigate the damage. These include aggressively investing in new equipment and software as well as determining where production bottlenecks are most likely to appear.
RFID as a revolutionary technology during the pandemic
Radio-frequency identification (RFID) is probably the identification technology most likely to enhance supply chain capabilities and reduce the need for additional manpower. Its main advantage is that labels no longer need to be read individually; instead, multiple RFID chips can be scanned simultaneously, without the need for a direct line-of-sight. This means less time is spent reading every label throughout production, with less chance of incorrectly scanning the item. This can shore up inefficiencies in the chain, particularly those caused by poor inventory management. Expiry dates, recalls, and stock inflow and outflow can be better managed, and contaminated batches can be quickly and accurately traced. Security is also enhanced with RFID, reducing the likelihood of theft.
RFID has yet to truly take hold in the supply chain, mainly because it used to be expensive and limited in its capabilities. As the overall price of RFID products has lowered, their ability to integrate within workflows has increased. For example, it is now possible to incorporate RFID tags into nearly any type of surface or environment. This is possible as any label can be generated with an inlay for an RFID chip, including cryogenic, heat-resistant, and chemical-resistant labels and tags. Certain manufacturers who specialize in custom laboratory labels, such as LabTAG, can design custom orders containing RFID chips specialized for nearly every process, from bioreactors to storage in liquid nitrogen.

Identification software to upgrade workflow
Software integration is key to all facets of the supply chain. It's especially important due to the record-keeping requirements of the pharma industry, as any lapses in data management could spell trouble later during an audit. All software systems need to be as reliable and intuitive as possible, as the loss of manpower during this intense phase of the pandemic could mean personnel must adapt to new tasks and be capable of adjusting to the various intricacies of any given system. Specialized software, like BarTender, is ideal as it can directly integrate with management systems to link identifiers found in databases. This reduces errors caused by manual data input and increases the overall speed of printing, limiting the need for additional manpower.
It's also necessary to consider whether your software can both generate barcodes and encode RFID. It's possible to print barcodes on the face stock of RFID labels (preferably with a thermal-transfer printer to provide optimal protection against harsh conditions, like cryogenic storage and chemical exposure). As such, it is advantageous to use software, like BarTender, as well as a printer (the Zebra ZD621R UHF RFID printer, for example) that can do both.
Custom printing allows others to fill the gaps
One way to make up for the possible loss of manpower is to divert the work to a third party who can fill in the gaps. Appropriate planning and coordination that utilizes a tight partnership between the supply chain and the third-party manufacturer makes it possible to foresee issues much earlier and ensure that all identification needs are met, even if a severe wave of COVID-19 hits. In this sense, it pays to work with a label manufacturer directly, especially one with the flexibility to customize orders and ensure product specificity and quality through rigorous testing, including grading barcodes, which can guarantee an accurate reading. Even if the omicron wave happens to be short, its impact can be quickly alleviated by placing the work in the hands of other experts and keeping tight deadlines within reach.
No one knows when this new wave of the pandemic will end; even with high vaccination rates, the omicron variant tends to spread at a faster pace than ever before. With supply chains already hurting from the previous waves, costs have increased, and labor has become scarcer. Finding new methods of controlling for these factors is essential to keep up. Implementing new identification systems is one area that can alleviate these short-term pressures and help plan for the future. When the next SARS-CoV-2 variant is discovered, this will provide a greater buffer to maintaining high productivity.
LabTAG by GA International is a leading manufacturer of high-performance specialty labels and a supplier of identification solutions used in research and medical labs as well as healthcare institutions.