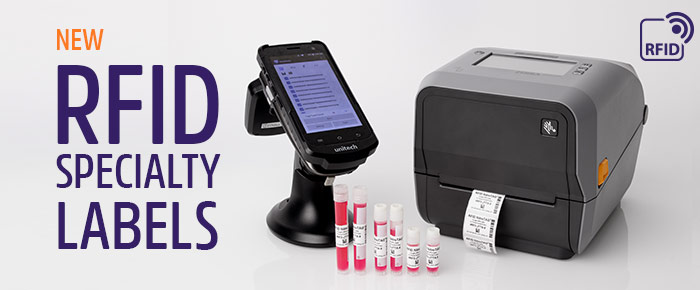 Summary: GA International has developed a unique line of thermal-transfer RFID labels for a wide range of environments and conditions. They now can also custom produce tailored RFID solutions to their customers' specific requirements.
GA International has acquired state-of-the-art new equipment that has allowed them to develop an exciting new line of specialty RFID labels that will withstand a variety of harsh environments and conditions. This new piece of equipment allows them to integrate various flexible UHF inlays into any of their durable label facestocks, creating tough RFID labels designed to work in a wide range of applications throughout the laboratory.
They have already developed a variety of RFID identification solutions that are now available. This includes:
RFID NitroTAG® – These labels are designed for long-term cryogenic storage in liquid nitrogen and can be read while immersed.
RFID XyliTUFFTM – These chemical-resistant labels are intended to identify microscope slides and withstand exposure to various harsh chemicals and solvents, such as xylene immersion.
RFID ParafiTAGTM – Designed for hard-to-stick surfaces, these labels are ideally suited for identifying Formalin-Fixed Paraffin-Embedded (FFPE) tissue blocks.
RFID Steri-ThermoTAGTM – These RFID labels are designed to withstand various sterilization protocols, including in steam autoclaves, dry heat ovens.
RFID Cryo-WrapTAGTM – These self-laminating labels will withstand extended cryogenic storage in liquid nitrogen, while their clear laminate provides added protection against chemical exposure and abrasion.
RFID PlateTAGTM – These labels have a thin design and inlay, perfect for identifying the sides of microplates, Petri dishes, and cell culture plates.
They also have the ability to create customizable solutions tailored to specific applications or needs. Their knowledgeable support team is always available to consult and help clients design a custom labeling solution that meets their exact specifications. These specialty RFID labels can also be custom printed with serialized barcodes, color logos, and encoded with alphanumerical values. From inlay, antennae, and label size combination to configuration and material selections, GA International offers performant specialty labels to produce unique and dependable identification and tracking solutions.
GA International is the worldwide leader in manufacturing cryogenic labels. They offer a wide range of cryo labels, tags, and tapes, tailored for a variety of surfaces and containers, including cryo tubes, vials, metal racks, and cryo straws. Renowned for their custom manufacturing services, they can manufacture labels without any restrictions on size, color, or shape. GA also provides barcode printers, scanners, data printing, and data collection hardware and software to offer complete identification and tracking solutions to laboratories and medical facilities.
LabTAG by GA International is a leading manufacturer of high-performance specialty labels and a supplier of identification solutions used in research and medical labs as well as healthcare institutions.