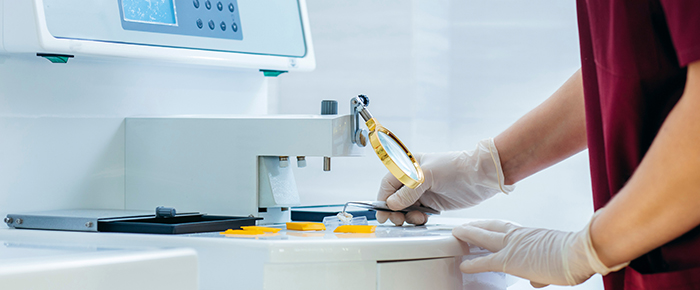 Pathology and histology labs process a large volume of specimens on a daily basis. These specimens need to be properly identified to ensure patients receive the proper diagnosis. However, manual labeling can be time-consuming and has been linked to labeling errors, leading to misdiagnoses. To help address this issue, labs have started to adopt specimen tracking systems (STS) that automate specimen tracking, thereby reducing labeling errors and improving efficiency.
The challenges of manual sample tracking
Historically, pathology labs have relied on manual systems for sample tracking and data collection. Many labs have also implemented a laboratory information system (LIS) to aid with this process, although they continue to enter the data manually. This can lead to patient misdiagnosis through labeling errors. So, why are sample labeling errors still being made, and how can the issue be corrected?
Not all errors are caused by mislabeling of specimens, as sample mishandling and slide contamination can also result in improper diagnoses. However, incorrect sample labeling has been estimated to still occur in approximately four of every thousand surgical specimens processed1. While this error rate may seem relatively small, when considering the 7.6 billion samples being tested each year in the US alone, the number of identification errors being reported becomes quite significant.
This is often associated with poor handling processes or a lack of adequate checks and balances. While this may be true, in certain situations, for the most part, pathology and histology labs have high standards of care and will go to extreme lengths to ensure errors aren't introduced during processing. However, the sheer volume of samples processed daily, and the various tests each specimen is typically subjected to, can make keeping up with demand a struggle, even for a well-organized lab. Moreover, as the workload continues to increase, there is mounting pressure to reduce testing time, in order to accelerate time to diagnosis, funding is at an all-time low, and many labs are facing labor shortages. This combination of factors is the likely cause of labeling errors being introduced into the system.
The practice of manually labeling slides and cassettes and needing to input that data into your tracking system by hand creates multiple points where errors can be introduced. Reliance on handwriting histology labels can compound the issue, as trying to interpret a faded label or illegible handwriting can all too easily result in errors. Labs may also sort slides and cassettes into batches so that tests can be performed on multiple samples at once before resorting the slides according to the patient, while some slides may also need to be re-labeled at specific stages in the process. These steps can also lead to errors, with slides being matched to the wrong block (containing the patient tissue) or incorrect information being added during re-labeling. Conversely, while entering data into a LIS can reduce errors, manual data entry still poses risks, with entry errors estimated to occur at a rate of once every 300 keystrokes.

How specimen tracking systems work
An excellent way to reduce labeling errors is by implementing the use of barcodes along with tracking software. Commonly, an identification number is created to identify each patient and track all samples linked to them. However, the same number may not be able to be tracked throughout the whole process, leading to the need to re-label at particular points. As such, if barcodes aren't being used and scanned at each stage, the potential for errors still exists, especially if the information must be re-entered from one system to another. Instead, encoding this data with barcodes can help reduce errors, and also facilitate tracking of the sample throughout the histology process. This can help improve the overall efficiency of the process and allow staff to work in a more standardized and secure manner.
With a barcode tissue tracking solution, each patient has a unique identification number that is clearly and permanently printed on each specimen container, along with a barcode that represents the ID number in a scannable form. This barcode is scanned upon pick-up and on delivery to the testing lab. This will automatically generate an accession number in the LIS. Depending on the standard operating procedure of the lab, it can also print the required specimen labels as well as the necessary tissue cassettes.
The cassettes can then be scanned during the grossing process, such that if a cassette from a different patient is used, the system will automatically flag the error. This error will also be recorded, enabling the lab to determine the cause of the error, prevent further mishaps, and optimize the process. The cassettes are scanned again when starting the embedding process to record time, user, and the number of blocks.
Barcodes printed on xylene-resistant labels also facilitate the slide preparation process, as technicians don't have to manually write or print their histology labels. They can simply scan the blocks, and the required amount of slide labels are automatically printed, with the appropriate information, including a barcode. Slides can then be stained according to the lab's protocol and distributed to pathologists for review.
The specimen tracking system ensures that only one patient's samples are handled at a time. In addition, scanning a sample will allow the laboratory to track its process, including its location and who handled it, providing full traceability.
Improving lab efficiency with a STS
Studies have been conducted to determine the impact of implementing an STS in the lab and how productivity was affected. Some of the metrics studied include the number of reported errors, time spent performing specific tasks, and overall processing time.
Implementing an STS results in a number of improvements by streamlining the histology process and eliminating specific time-consuming steps. This has reduced the overall processing time for tissue samples, with the most significant reductions seen during the accessioning and slide preparation steps2. These are the steps where identification and data entry slowed down the process the most, so it is not surprising they saw the most benefit. More labor-intensive steps, such as the embedding process, did not show as significant a reduction in time spent or productivity improvements. On average, a decrease of 27% was observed in hand-on time spent just in the histology lab2.
Barcoding and tracking systems have also been shown to reduce the incidence of errors. A study done by the department of pathology at the University Hospitals Case Medical Centre in Cleveland, Ohio, showed the hospital's number of errors go from 11-14 slides out of 10,000 to 0-1 out of 10,0003. In another study at the Henry Ford Hospital in Detroit, Michigan, a 62% reduction in case misidentification was reported by introducing automation and barcoding3.
By removing the manual process of tracking the specimen, slides, and blocks, technicians in histology and pathology labs are provided more time to develop and improve their techniques and procedures. This has the added benefit of reducing identification errors, while the addition of barcode tracking means samples can be found quickly, regardless of the stage of the process they are currently in. With reports being generated when an error does occur, the lab is better positioned to address the mistake and ensure it does not happen again. Specimen tracking systems, along with chemical-resistant labels can greatly enhance lab efficiency and improve the productivity of individual technicians and the lab as a whole.
LabTAG by GA International is a leading manufacturer of high-performance specialty labels and a supplier of identification solutions used in research and medical labs as well as healthcare institutions.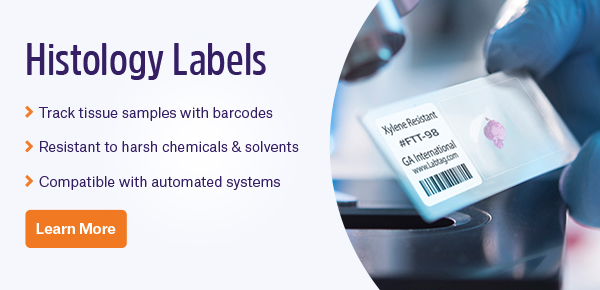 References:
Surgical specimen identification errors: a new measure of quality in surgical care. Makary MA, Epstein J, Pronovost PJ, Millman EA, Hartmann EC, Freischlag JA. Surgery, 2007 Apr;141(4):450-5.
Benefits of Implementing a Specimen Tracking System (STS) in Anatomic Pathology. Shanna Pollock, MSB, HTL (ASCP) QIHC, PA. 2017, Leica Case Study.
Specimen Tracking Systems: Tracking Samples Helps Reduce Misdiagnosis. Mikko Rasanen. Leica Editorial.