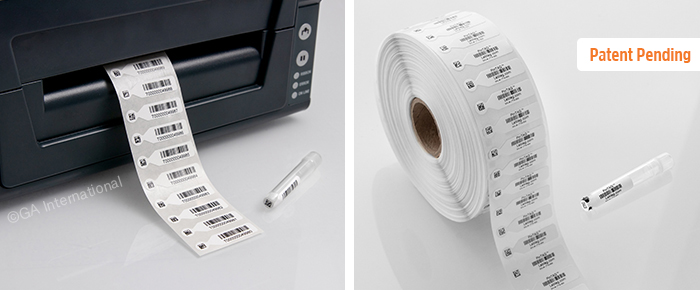 Laboratories, biobanks, and biorepositories are increasingly using 2D-barcoded tubes to store their valuable samples in ultra-low temperature freezers and liquid nitrogen tanks. These cryo tubes offer a variety of benefits, however, customization and control over the encoded data is a challenge as the tubes prevent 2D barcode modification. Here we'll present a new type of label that provides total identification control for each individual sample.
2D-barcoded tubes & automation
When storing specimens long-term under cryogenic conditions, you need slim profile tubes that will provide a secure seal and clear identification. 2D-storage tubes are perfect for this purpose, as they have a permanent laser etched barcode on the bottom of the tube. This high-contrast 2D barcode offers reliability and traceability of your samples and easy scanning using flat tabletop scanners. These tubes are available from various manufacturers, with some also offering specialized sealing caps designed for cryogenic storage below -80°C. They often also come with space-saving boxes and racks that help minimize their space footprint in freezers and liquid nitrogen tanks, allowing greater control over your inventory.
The other advantage of using 2D-barcoded tubes is their compatibility with various automated systems. Designed to work with automated readers, cappers/decappers, and liquid handlers, they reduce time spent manually handling tubes, as well as the time spent outside of cryo storage. These automated systems can be incorporated into freezers, limiting the need to fully thaw specimens to make aliquots or retrieve a sample. While the primary robotic components are stored in zones ranging from 0°C to -20°C to ensure they remain in proper working order and limit the thermal transfer to samples, samples can then be immediately replaced at -80°C or -196°C once the procedure is completed.
Customizing your encoded data
Each 2D-barcoded tube is etched with its own unique permanent barcode. However, the barcode's encoded information is assigned by the supplier, not by the end-user. The tubes can be supplied without pre-engraved barcodes, but etching barcodes onto these tubes can be costly. In addition, these 2D-storage tubes typically only have the 2D barcode etched on the bottom, meaning a scanner is required at all times to identify the contents of each tube properly.
When more control is required over the encoded barcode, it may become necessary to customize the information encoded. This can include adding additional information to the biobanking LIMS software used to track the samples, preparing sampling tubes with matching or custom barcodes, or merely changing the identification number altogether. The addition of human-readable text on the side for fast visual identification may also be preferred if the staff handles the samples.
This was the case for a COVID-19 testing lab that required a way to alter the inscribed barcode on their 2d-barcoded tubes. They found that scanning was not optimal due to low contrast and needed a way to re-identify their tubes. In addition, they also wanted to add human-readable text along the side of their tubes. To address this problem, we created PinTAG, a label that can be customized to a variety of 2D-barcoded tube sizes and dimensions.
Labels for 2D-barcoded tubes – PinTAG
Our PinTAGTM cryogenic labels have a unique, patent-pending design made specifically for 2D storage tubes that permits the side and bottom to be identified simultaneously. They allow for a 2D barcode to be positioned on the bottom of the tube, while human-readable text and a 1D barcode can be applied on the side. They have been tested with various 2D tubes and are compatible with 2D MatrixTM tubes, Simport® tubes, as well as 2D tubes from LVL technologies and others.
PinTAG labels withstand ultra-low temperature conditions, including immersion in liquid nitrogen (-196°C), ideal for long-term storage in freezers and liquid nitrogen tanks. They are also compatible with various robotic/automatic liquid handling systems, including readers/scanners, perfect for labs with high throughput. The labels will work with most biobanking LIMS and laboratory inventory management systems used to track samples kept in cryogenic storage.
These labels provide the user maximum flexibility and control over the encoded information when sampling or aliquoting specimen libraries, allowing the receiving vials to be labeled with identical or custom data. PinTAG labels offer a cost-effective alternative to pre-barcoded vials. They can be used to replace damaged or unreadable barcodes, overwrite or redefine existing barcodes, or simply add additional information. These thermal-transfer printable labels can also be printed with company logos and color graphics in addition to barcodes and alphanumeric text, providing additional identification options not offered by standard slim profile 2D-barcoded tubes. They are perfect for (re)labeling tubes used in clinical trials, diagnostics, biobanking, epidemiological studies, and kit manufacturing.
LabTAG by GA International is a leading manufacturer of high-performance specialty labels and a supplier of identification solutions used in research and medical labs as well as healthcare institutions.