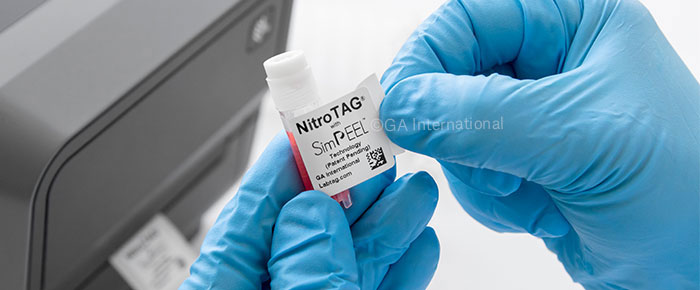 Sample identification is an important step throughout all laboratory processes. However, just like pipetting, picking up labels from their liners and applying them to a large volume of tubes and vials takes time, energy, and patience. Automatic labelers are the most convenient way to avoid the tedium associated with extensive labeling projects. However, they come at a significant cost that some labs may not be able to afford. Below are four cost-effective alternatives that greatly aid in label peeling and application without the high costs associated with a dedicated system.
SimPEELTM Technology
New patent-pending SimPEEL technology makes peeling labels off their liner quick and easy. It is designed with an innovative adhesive-free tab that ensures the label will not stick to your hands or gloves. This makes label application hassle-free; it's as simple as attaching one end of the label to the tube, vial, or container, removing the adhesive-free tab, and applying. This ensures that the adhesive never sticks to your gloves or gets contaminated from your hands/gloves, compromising its adhesion strength. This is especially important for permanent labels with strong adhesives, as these can sometimes bind to gloves and ruin both the glove and the label, resulting in the label failing under the harsh conditions it is designed for.
Cost: No extra cost associated with incorporating this technology onto existing label products.
PikaTAG®
For small dot and rectangular labels, the patent-pending PikaTAG is a great way to affix labels that doesn't require handling the labels directly or performing the label peeling by hand. PikaTAG is a pen-like label applicator that allows you to quickly pick up small labels from their liners and easily apply them on vial caps or any other surface. It has an ergonomic design, making it easy to handle and reducing repetitive stress injuries that can occur from repeatedly picking small labels. Just print the labels, remove the protective cap, and start applying. The slight bend at the end of the rod-shaped tool allows for the precise application of pressure at both stages of the labeling process. The PikaTAG can also be provided with convenient tip refill sheets, allowing you to re-use your PikaTAG, replacing only the applicator's tip.
The main advantage of using the PikaTAG label applicator is the time saved from manually labeling each and every tube. Because of its streamlined design, it also increases the accuracy of label placement, ensuring you don't need to manually re-affix misplaced labels.
Cost: A starter kit consisting of a PikaTAG applicator, refills, and pad is approximately 40$; compatible labels are extra.
Back slit labels
Also referred to as crack and peel, back split, or crack back labels come with a perforation in the back of the label. This allows the user to bend the label slightly, partially removing the label's liner and making it easier to pick up the label from the liner. There is no fixed position for the back slit, so its placement depends on which end you most want to pick up the label from. This label peeling method can be applied to both label rolls and sheets.
Cost: No extra cost associated with incorporating this technology onto existing label products.
Printer peeler add-ons
Certain printers (e.g. the cab SQUIX) can be purchased with special attachments like peel-off plates. These plates help remove labels with an extremely strong adhesive or thick liner material. The drawback to using these plates is that you cannot use a sensor to detect when a label is removed so that the next one can be printed. Instead, these plates require you to manually press a button on the printer to print the next label.
Cost: A peeler add-on can range from approximately 200-400$.
LabTAG by GA International is a leading manufacturer of high-performance specialty labels and a supplier of identification solutions used in research and medical labs as well as healthcare institutions.