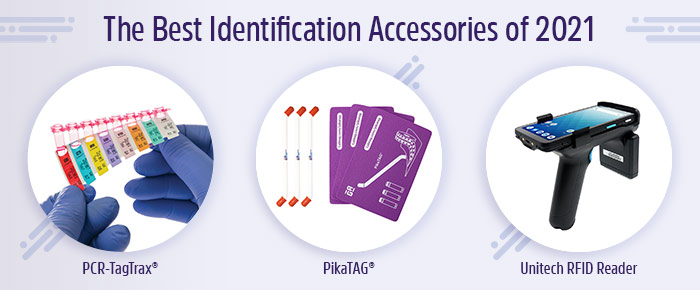 Here at LabTAG, we offer more than barcode labels; we offer complete identification solutions for your lab and healthcare facility. Part of that is providing you with the best identification accessories, printers, and automation.
Though accessories may not be essential, they are extremely valuable when it comes to sample identification. Scanners, label applicators, as well as printer accessories and add-ons can all contribute to making your lab run more smoothly, efficiently, and error-free.
To give you an idea of how these accessories can benefit your lab, we've decided to come up with a list of the five best ones on the market. Our team of in-house experts, from life science academics to sample identification specialists, provide their insight to determine the types of accessories that best fill specific laboratory needs. Without further ado, here they are:
PCR-TagTrax® – The patent-pending PCR-TagTrax isn't precisely an accessory; it's more of a system that allows you to identify high-profile PCR tubes, 8-well strips, and microplates in a way that's never been done before. Categorically, it's not exactly a label either, as it doesn't come with an adhesive, and you can use PCR-TagTrax as a stand for your tubes or add it to your notebook to help keep track of your reactions. With its glove-friendly handling and color-coding capabilities, we recommend this "accessory" to everyone who uses PCR and/or real-time PCR applications.
Zebra ZD-Series Battery Accessory – This battery pack enables your printer to run wirelessly, which means you can place it anywhere and move it around with ease. This is useful when printing labels on demand is necessary or when the printer needs to be transported. With Bluetooth and Wi-Fi connectivity options, you have a truly wireless labeling system that you can move around the lab.
Note: The pack can be used with the following Zebra printers: ZD410d, ZD420c, ZD420t, ZD420d, ZD620t, and ZD620d.
PikaTAG® – The patent-pending PikaTAG is a handy applicator for small circular labels. It's got an ergonomic design that can be used with or without gloves to accurately place large batches of labels on the tops of tubes. Its best feature, which we can't stress enough as label providers, is that it saves both time and your wrist from strenuously affixing each label to such small containers. The PikaTAG now comes with the PikPadTM, which furtherfacilitates the application of small dot labels by providing a flat surface to maximize the number of labels that can be picked in a given time.
UniTech Handheld RFID Reader – This handheld scanner does it all. Equipped with a 2D imager, it can scan/read UHF RFID tags, as well as read 1D and 2D barcodes. It has Wi-Fi, Bluetooth, and 4G cellular connectivity to upload all data instantly, and it even has MicroSD memory expansion capabilities of up to 256 GB.
Xylene-Resistant Ribbons – Printouts are just as valuable as the labels they're printed on. Having a strong adhesive means little if harsh chemicals ruin the printout; this includes solvents such as xylene, commonly used in most histochemical staining procedures. As such, utilizing a ribbon that's xylene-resistant should be a foregone conclusion for any lab that uses harsh chemicals and solvents. This ensures printed barcodes (as well as text) remain legible, reducing scanning errors and improving accuracy across the board, irrespective of the conditions your samples are exposed to.
Choosing the right accessories to boost your lab's identification capabilities requires the expertise to understand what works best. Hopefully, this list gives you an idea of what you can do to improve your current identification system. If you have any questions, our team of scientific experts is always available to help you out.
LabTAG by GA International is a leading manufacturer of high-performance specialty labels and a supplier of identification solutions used in research and medical labs as well as healthcare institutions.