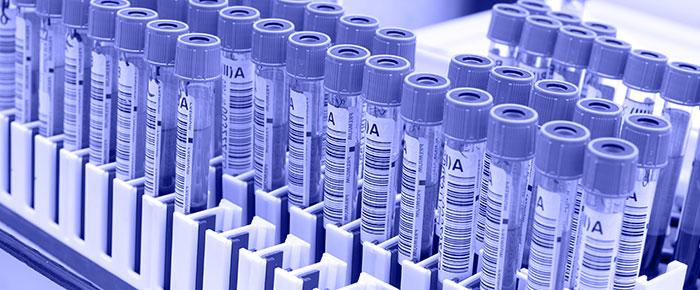 Here at LabTAG, we offer more than barcode labels; we offer complete identification solutions for your lab and healthcare facility. Part of that is providing you with the best in printers, accessories, and automation.
There are many benefits to employing label automation in the lab, like saving time, reducing errors, and preventing repetitive stress injuries. When it comes to labeling, automated appliers (also referred to as tube labelers) eliminate the need to hand label vials and plates, allowing staff to focus more on their work and experiments. Automatic labelers come in a variety of sizes and automation levels, from bulk labelers where unsorted empty vials are tossed in a bin for a truly walk-away solution to semi-automated labelers where a user manually feeds tubes into the system, one at a time.
The models listed here can print the label in addition to applying it. One can also use these machines to simply apply labels, which is handy when using pre-printed labels.
To help you select the best model, we've devised a list of the five best automated print-and-apply label appliers on the market. Without further ado, here they are:
Sci-Print VX2/VXL – Scinomix developed the Sci-Print series not just to label tubes but also to uncap/recap, sort, fill, and scan tubes in bulk, making it an efficient all-in-one system. It's adaptable, with a tube size range of 0.5 mL to 50 mL, and can even handle honeycomb plates. The only difference between the VX2 and VXL models is the number of tubes it can handle at once; the VX2 has a work deck of six racks and can handle up to 600 tubes at once, while the VXL work deck has twelve racks and can handle 1200 tubes.
cab Axon 2 – The cab Axon 2 is another thermal-transfer automated printer/labeler that can fit on your workbench and can generate high-quality barcodes (600 or 300 dpi). Though it offers a great printer based on its ease of use and high-quality printouts, it cannot perform additional functions like scanning barcodes or uncapping/recapping tubes.
Sci-Print SOLO – The Sci-Print SOLO is a semi-automated labeler that typically fits into larger automated systems. This model can handle a tube size range similar to the Sci-Print VX2/VXL, and with the proper accessory installed, it can also scan tubes.
390S Automatic Tabletop Labeling System – This labeling system from AutoLabe is tailored to provide accurate label placement for small tubes and vials. This print-and-apply system has an option for inkjet label coding and is also small enough to fit on your bench.
Wraptor A6200 – Brady's Wraptor A6200 gets included in our list primarily for its small size and ease of use, especially with its touchscreen, icon-based monitor. However, it has a lower resolution than the cab Hermes Q, and only Brady labels will work with this system.
Choosing the right machine for your lab isn't a cut and dry solution; it requires the expertise to understand what works best. Hopefully, this list gives you an idea of what you can expect from an automated labeler, and if you have any questions, our team of scientific experts is always available to help you out.
LabTAG by GA International is a leading manufacturer of high-performance specialty labels and a supplier of identification solutions used in research and medical labs as well as healthcare institutions.