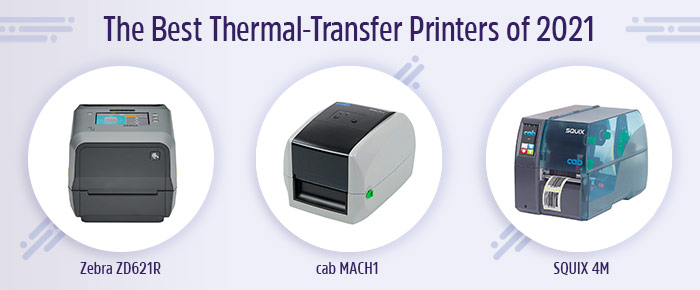 Here at LabTAG, we offer more than barcode labels; we offer complete identification solutions for your lab and healthcare facility. Part of that is providing you with the best in printers, accessories, software, and automation.
Buying the right printer is essential when it comes to sample identification. Not all machines are created equal, even when it comes to thermal-transfer printers.
That's why, to help you select the best model, we've decided to come up with a list of the five best label printers of 2021 on the market. We spoke to a variety of experts, from life science academics to sample identification specialists, to get the best sense of what is most commonly needed in the lab to print labels. So, without further ado, here are:
Zebra ZD621R – This printer has it all. It's got the ability to encode ultra high-frequency RFID tags in addition to providing either thermal-transfer or direct thermal printouts. Since almost any label can be equipped with an RFID chip inlay, this printer combines the best of both worlds: RFID technology and high-quality barcode printing. This printer can provide crisp, clean printout at 203 or 300 dpi and will reach speeds of up to 8"/s when set to 203 dpi. It also includes a standard USB host for stand-alone printing, a full-color LCD touch screen interface, and an upgraded, optional peeler/cutter.
Features:
300 dpi resolution for small-label printing
UHF RFID encoding
High print speed, up to 8"/s
USB host connectivity for stand-alone printing
cab MACH1 & Zebra ZD621t (Tie) – These versatile printers are ideal for small- to medium-sized jobs. They are capable of generating both thermal-transfer and direct thermal printouts, fit easily on your bench, provide 300 dpi of resolution, and have printing speeds ranging from 4"/sec (MACH1) to 6"/sec (ZD621t). They can also handle labels above 4" in width, have an open access design that makes loading media seamless, and offer a range of connectivity options, including Ethernet, Serial, and USB 2.0.
Features:
300 dpi resolution for small-label printing
Thermal-transfer & direct thermal printing modes
16" (cab) & 4.27" (zebra) print width

Rollo Label Printer – The Rollo direct thermal printer offers great flexibility, particularly in the size of the labels it can print, and is compatible with all major shipping platforms. It is ideal when printing 4" x 6" shipping labels and has a print speed that reaches 6"/s. Its small footprint also makes it readily portable, taking up little space, such that it can be set up wherever required.
Features:
Wide-format label maker
Compatible with all top shipping platforms
Quick & easy set up and operation
cab SQUIX 4M – The main difference between the SQUIX 4M and the MACH1 is the size. The SQUIX 4M is primarily used for printing industrial quantities of labels (+500 per day), with a relatively high printing speed of 11.8"/sec, and offers the option to print at 600 dpi. This printer also includes an operational panel with easy-to-understand symbols and device settings that enable the printer to be utilized
Features:
Crisp printout, with 600 dpi option
High print speed, reaching 11.8"/s
Can handle large print volumes
Brady BBP12 – This compact thermal-transfer printer's best feature is its small size, and it is one of the few Brady printers compatible with various label types (many Brady printers are only compatible with Brady labels). It's designed to work mainly through the Brady Workstation, but it can adapt to other 3rd-party software with the right driver. It can print up to 1000 label per day at a speed of 4"/s and has a color LCD screen for ease of use.
Features:
Compatible with other label types
6" print width
Color LCD screen
Choosing the right printer for your lab isn't a cut and dry solution; it requires the expertise to understand what works best. Hopefully, this list gives you an idea of what to expect from the best thermal-transfer printers have to offer, and if you have any questions, our team of scientific experts are always available to help you out.
LabTAG by GA International is a leading manufacturer of high-performance specialty labels and a supplier of identification solutions used in research and medical labs as well as healthcare institutions.