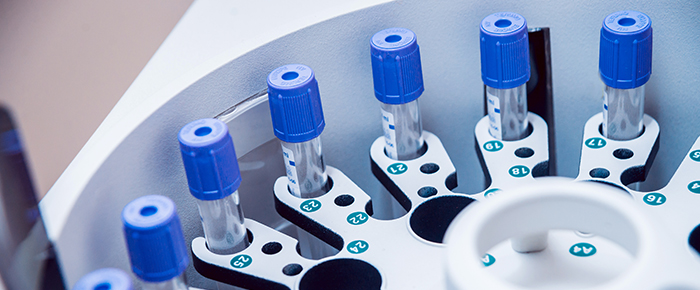 Cancer represents a major cause of death and an important barrier to increasing life expectancy in every country of the world. The earlier it is diagnosed, the better the outcome; this observation has led to an heightened interest in cancer diagnostics over the years. Today, molecular diagnostics and genomic profiling are at the forefront of cancer diagnostics, used to identify tumor-specific molecular profiles, which provide the basis for the development of new targeted therapies.
The history of cancer diagnostics
Traditionally, cancer treatment involves a combination of surgery, radiotherapy, and cocktails of chemotherapy drugs. Treatment is typically based on the type and stage of the cancer, which is ascertained through radiographic scans and tumor biopsies that can assess its morphologic characteristics. This process involves a visual histopathologic examination of tumor cells, referred to as histomorphology. Histomorphology is still the cornerstone procedure used to identify tumors as either carcinomas, sarcomas, or melanomas and to determine the treatment regimen.1
Histomorphology is a technique that has been used for years to identify and diagnose benign and malignant tumors. It works by fixing a portion of the patient's tumor tissue prior to subjecting it to histological processing. This includes embedding the tissue in paraffin wax blocks and making thin slices of the tissue using a microtome, which are then mounted on glass slides and stained with hematoxylin and eosin stains. Cancer diagnosis may also require additional tests, such as immunohistochemistry (IHC) and flow cytometry. However, these tests can often delay the final diagnosis and prolong turnaround times for most pathology labs, which can cause furthers delays in treatment initiation.
More recently, various genetic aberrations have been linked to cancer pathogenesis, leading to a better understanding of its development and a more refined tumor diagnosis. The identification of specific gene targets has been a pivotal breakthrough in cancer diagnostics, enabling pathologists to better classify cancers and design molecular diagnostic tests. Typically performed via polymerase chain reaction (PCR) and immunohistochemistry, among other techniques, these tests often provide invaluable information regarding a patient's prognosis and expected outcome; the combination of IHC and PCR has even allowed scientists to discover new subcategories of tumors, with medulloblastoma and breast cancer as prime examples.1 With that in mind, these new diagnostic tests are designed to complement traditional tumor histomorphology, not replace it.
Targeted therapy & molecular profiling
Targeted therapy aims to inhibit the function of specific tumorigenic molecules present in certain cancers. Primarily used to treat patients that don't, or likely won't respond to standard therapies, they are included in initial treatments when the specific tumor has been already determined to be resistant to conventional chemotherapy. Predictive tests are often required, as these therapies are likely to be ineffective against tumors that do not harbor the corresponding mutation. Some notable successes include targeted therapy for HER2-positive breast cancers and KIT mutations in gastrointestinal stromal tumors. Recent advances in high-throughput sequencing have also enabled a more accurate mapping of molecular phenotypes, which improves the predictive and prognostic value of these biomarkers.
Molecular profiling is already being used to improve upon targeted therapies used for patients that do not respond to standard chemotherapy or in cases where the cancer has progressed despite adequate chemotherapy. In cases where metastasis occurs despite chemotherapy, it is important to create a molecular profile of the metastatic tumor. The use of multiple platforms, such as gene sequencing, IHC, and protein expression analysis can produce a more complete picture of the tumor's characteristics and enable doctors to identify new therapeutic targets. This process can also be done at an earlier stage of diagnosis to identify the cancer type. Using these genetic tools, investigators were able to demonstrate a 95% accuracy in identifying the cancer type in a process called "reverse profiling".1 However, while this may have benefit in the future, molecular profiling does not yet distinguish benign versus malignant tumors with sufficiently high accuracy. As such, it is best used to complement tumor morphology analysis in the overall diagnostic assessment of cancer.
The future: liquid biopsies & spatial diagnostics
A few new diagnostic techniques have begun to emerge that may change how cancer is diagnosed in the future. While still in development, these new techniques may help diagnose patients ealier, giving a more detailed analysis of the tumor and producing more tailored, personalized targeted therapies.
The first new technique involves the use of liquid biopsies instead of a solid tissue biopsy. Liquid biopsies represent a promising new tool for the early detection of cancer, monitoring disease progression, and developing personalized medicine. Requiring only a biological fluid, such as blood or urine, they are a less invasive alternative, eliminating the need for invasive surgery that can cause unwanted complications. These fluids can be tested for the presence of disease biomarkers to better inform clinical decisions. Their non-invasive quality also means multiple samples can be taken, allowing disease progression to be tracked. While tissue biopsies are still a far more reliable tool for diagnosing cancer presently, liquid biopsies have the potential to replace them in cases where specific biomarkers have been tested and validated clinically.
Better quantifying tumor heterogeneity may also allow for more personalized and effective treatment. This is likely one of the main challenges currently facing cancer diagnostics, as some tumors can demonstrate intramural heterogeneity, where they exhibit different phenotypic, morphological, and even genetic expression profiles. This can make it difficult to classify the tumor and select a targeted therapy that is unlikely to result in chemoresistance. One way to improve the analysis of such tumors is with spatial diagnostics. This requires using an intact tissue specimen, which is then subjected to various visual and imaging techniques. Used in combination with liquid biopsies, which detect molecules released into the tumor microenvironment, it can provide more accurate information and lead to more reliable clinical decisions.
Modern techniques and therapeutic options have significantly decreased the mortality and morbidity from cancer within the past two decades. However, relapse and recurrence still plague many cancer survivors. Therefore, the development of new diagnostic tools remains a priority, with much more work to be done to effectively improve patient prognosis.
LabTAG by GA International is a leading manufacturer of high-performance specialty labels and a supplier of identification solutions used in research and medical labs as well as healthcare institutions.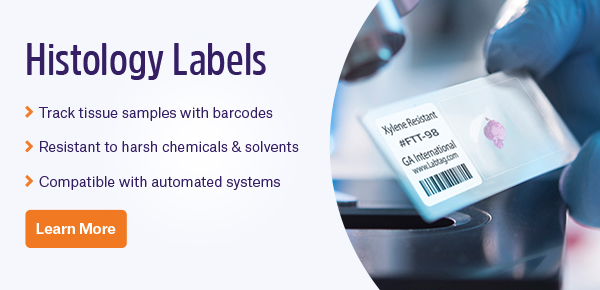 References:
Ahmed AA, Abedalthagafi M. Cancer diagnostics: The journey from histomorphology to molecular profiling. Oncotarget. 2016;7(36):58696–58708.