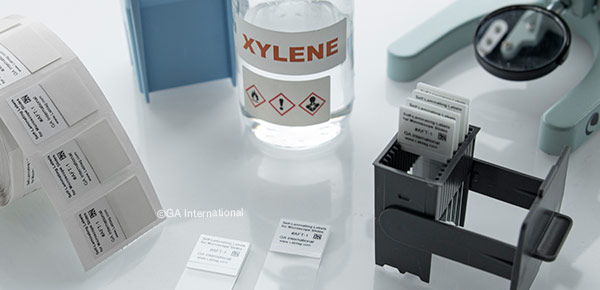 A cornerstone of the pathologist's toolkit, immunohistochemistry (IHC) is an essential diagnostic procedure that uses polyclonal antibodies to determine the tissue distribution of proteins and other antigens of interest in healthly and diseased tissues. Unfortunately, IHC involves the use of various harsh chemicals and stains, as well as elevated temperatures, necessitating the use of durable and reliable chemical-resistant labels to ensure samples remain clearly identified.
What is immunohistochemistry (IHC)
IHC was devised in the early 1930s and has been used since the 1940s to detect antigens in infected tissues. The aim of the technique is to image the tissue of interest while causing the least damage possible to the tissue and limiting the amount of antibodies used. As such, immunohistochemical staining is widely used to diagnose abnormal cells like those found in tumors, which require biopsies of the tissue in question. Tissue biopsies are processed into sections, similarly to other histology protocols, then incubated with the appropriate antibodies. When fixing the tissue, three methods can be used, each with its advantages and limitations: paraffin-embedding, frozen tissue, or floating sections. For each method, epitope masking is a primary concern.
Although IHC may provide less quantitative data than similar techniques, like western blot and ELISA, it does offer invaluable information about protein localization in intact tissue. This can be of great value to pathologists when diagnosing patients. Antigen retrieval is key in this regard, as it is used to expose antigenic sites and allow antibodies to bind. The most common method is heat-induced epitope retrieval, which requires elevated temperatures (up to 95°C) and may utilize buffers of varying pH. Buffers with a pH of 6 are common, though solutions with higher, basic pHs are also widely used. The optimal pH can vary widely between antigens and should always be determined experimentally. This step is most likely to cause the identification methods to fail due to high temperatures and variations in pH. Robust chemical-resistant labels that can stand up to these conditions are critical for identifying slides throughout this step.
Antibody binding is typically visualized using various markers, such as fluorescent dyes, enzymes, radioactive elements, or colloidal gold. A fluorescent microscope is used to visualize fluorescent dyes, radioactive elements allow the immunoreaction to be visualized by autoradiography, while colloidal gold can be used to identify immunohistochemical reactions by both light and electron microscopy. These markers can be directly linked to either the primary antibody or a suitable secondary antibody.
Applications of IHC in histology/pathology
IHC has a number of applications in histology and pathology labs, particularly for diagnostic purposes. Immunohistochemical methods can be applied to confirm the presence of infectious agents in tissues, such as cytomegalovirus and hepatitis B/C. Routinely used to validate disease targets, the technique, termed immunofluorescence assay (IFA), is used in both human and veterinary medicine to detect viral, bacterial, and protozoal pathogens. By detecting proteins located within specific muscle fibers and identifying certain vulnerable nerve cells, it has helped subclassify neurodegenerative disorders and identify various muscular dystrophies, differentiating vascular dystrophy from non-dystrophic disorders.
IHC is also widely used in cancer diagnostics to predict patient prognosis. It can be used to analyze and identify enzymes, tumor-specific antigens, specific oncogenes, tumor suppressor genes, as well as tumor cell proliferation markers. By examining these specific markers via IHC, doctors can diagnose a tumor as benign or malignant and determine the stage and grade of the tumor. In cases where the cancer may have metastasized, they can also identify the cell type and origin of a metastasized tumor to locate the primary tumor site; as such, analyzing tumors with IHC has proven to be a significant improvement over other conventional predictive techniques, including histologic grading, especially for tumors of uncertain origin, such as metastatic tumors from an unknown primary tumor. IHC has also proven helpful in cancer drug development, where it is employed to test drug efficacy by detecting the activity of disease targets.
IHC can also be used as a predictive tool when selecting treatment regimens. Tumors that are known to express high levels of certain hormones are likely to respond favorably to hormonal therapy, as is the case with hormone-positive forms of breast cancer and androgen-producing prostate cancers.
Labeling for immunohistochemistry (IHC)
IHC labeling can refer to the fluorescent dyes used to identify the antibodies or the labels and tags used to identify the slides and containers. Here, we will focus on the latter. Chemical-resistant labels should be used throughout the tissue preparation phase. Tissue cassettes should be identified using cassette printers, paraffin wax blocks should be labeled with labels that have strong adhesives for hard-to-stick surfaces, and microscope slides labels should withstand exposure to harsh solvents, such as xylene and toluene, as well as various histological stains, including hematoxylin and eosin Y.
For antigen retrieval, even these chemical-resistant labels may not be up to the task. This step requires microscope slide labeling that will not only withstand prolonged immersion in solvents but also elevated temperatures and exposure to acidic/basic buffers. HistoLAMTM is a chemical-resistant label that is designed with an over-laminating flap specifically for this purpose. Once printed, the clear laminate wraps around the slide and is applied over the printout, providing an additional layer of protection. Thermal-transfer printable, these slide labels are ideal for identifying microscope slides with patient/sample information as well as crisp 1-dimensional (1D) and 2-dimensional (2D) barcodes.
HistoLAM labels are also compatible with fully automated slide processors as well as special stainers and processors. This allows labs that depend on high-throughput technologies to utilize automated slide handlers, which can significantly cut down on workload. Personnel can identify slides at the onset without worrying about the printout becoming smudged or unreadable after staining. These thermal-transfer labels can also be integrated with laboratory inventory management systems, such as LIS and LIMS, as well as specimen tracking systems (STS).
LabTAG by GA International is a leading manufacturer of high-performance specialty labels and a supplier of identification solutions used in research and medical labs as well as healthcare institutions.