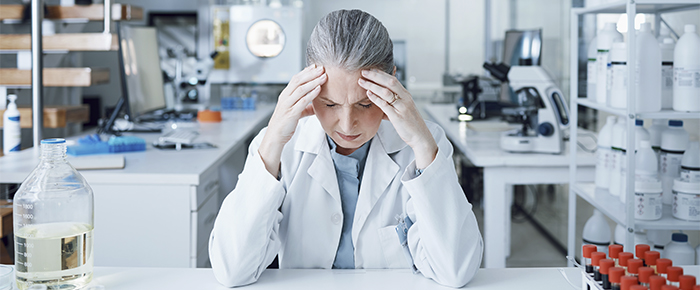 Burnout is a potential issue in any work environment, especially the lab. It has far-ranging consequences on employee safety and work productivity due to the increased likelihood of manual errors and inconsistent technique. However, whether you work as a medical laboratory technologist or a Ph.D. student in a bioscience lab, burnout doesn't have to remain a staple, with a variety of strategies that can be used to mitigate both physical and mental over-exhaustion.
Make work less strenuous
In the lab, it's easy to get run down by the numerous repetitive tasks required to be performed daily. Constant wear-and-tear from excessive pipette use and other tasks can ultimately lead to burnout or even repetitive stress injury (RSI), a serious condition that involves damage to muscles, tendons, and ligaments. People with RSI tend to suffer a variety of syndromes, like carpal tunnel syndrome and tendonitis, leading to work absenteeism and disability.1,2
To combat RSI, several strategies can be implemented:
Automate: Allowing robots to do the work of lab personnel is the most effective way to reduce manual strain. Many everyday tasks can now be automated, including labeling, liquid dispensing, and de-capping/re-capping tubes, all of which make it possible to free up time and prevent burnout.
Utilize an efficient labeling system: For those who can't automate sample identification, it's imperative to optimize the labeling process. Accessories like the PikaTAG™ allow users to bypass manual labeling of small tubes by picking up labels directly from the liner and attaching them to the tops of tubes.
Adjust your posture: Good posture provides a strong foundation for avoiding injury. When working, adjust your position so all necessary materials are within reach, keep your bench clean, rest your back comfortably, keep your muscles relaxed, and maintain neutral or straight positions with your wrist when pipetting.
Ensure staff are taking breaks
Breaks are an essential component of any workplace, especially one that can be as uncompromising as the lab. Experiments can be long, requiring mental and physical endurance, with additional mental strain from understanding the importance (and cost) of certain key assays. Breaks allow staff to reset themselves, which provides two primary benefits:
It increases the ability of personnel to focus on tasks, ensuring that assays and procedures are carried out correctly and consistently. This means that results will be more consistent and accurate as well.
Because staff are more focused and their bodies are not mentally and physically drained, accidents are more likely mitigated, which keeps personnel safe and reduces the chances of potentially damaging equipment.

Foster a positive work culture
Emotions and mental health are nearly as important as physical health, especially on the job. Fostering a positive work culture acts as a buttress for all personnel, allowing them to communicate their opinions and feelings freely without worry of being sharply criticized. This type of environment benefits the entire lab as blame is never acutely placed on those who make errors, which means that personnel is less likely to cover up any mistakes, and strategies can be designed to mitigate errors in the future.2
Some have resorted to integrating a Swiss Cheese model of error mitigation into their workflows rather than focusing on blame. This model, developed by James T. Reason and Dante Orlandella at the University of Manchester, is based on barriers that, when layered on top of one another like holes in Swiss cheese, eventually block errors from occurring. This model identifies deficiencies in the workflow and quickly addresses them without assigning blame to any one party. Ultimately, the system can recover faster and without additional mental strain on personnel.3
Promote initiatives that benefit mental health
Mental health is a pressing issue in science, especially for graduate students. In a study published by Dr. Teresa Evans from the University of Texas, 39% of students had moderate-to-severe depression, which is astronomically high compared to the previously measured rate of depression in the general population of 6%. Anxiety was also prevalent in 41% of students, with just over 50% stating that they had an unhealthy work-life balance.4
In Dr. Evans' article, she calls for growing support for graduate student research and encourages promoting mental health support to help mitigate the effects of burnout. Two institutions that are highlighted include the NIH Office of Intramural Training and Education and the NIH-supported Broadening Experiences in Scientific Training (BEST). However, while these programs are primarily aimed at career development, they do not necessarily address the mental health gap. She reiterates that those at the top—faculty and administration—need to be trained to identify student mental health needs and provide guidance and referral when needed.4
Provide respect, recognition, and growth
Recognition, especially in the field of science, is difficult to obtain, and for those continually working in the lab, it is often completely lacking. Respect and recognition go hand-in-hand in that it is essential to provide meaningful recognition for the work performed in the lab as a means of showing respect to those who accomplished it. It is also critical to include personnel in decision-making and to allow them to grow by mentoring and fostering a culture of inclusivity. This type of environment should be bolstered by providing new opportunities for staff so that they can grow their careers via additional training and apply themselves in different capacities throughout the lab.
LabTAG by GA International is a leading manufacturer of high-performance specialty labels and a supplier of identification solutions used in research and medical labs as well as healthcare institutions.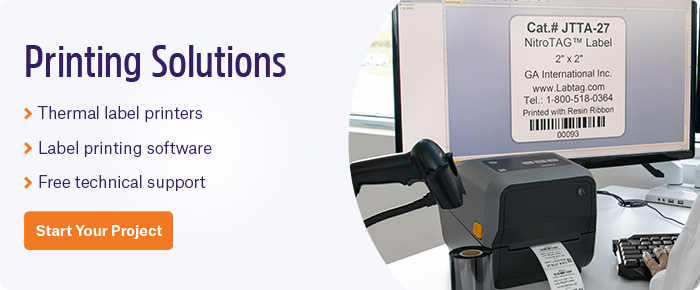 References:
National Institute of Environmental Health Sciences. NIEHS Health and Safety Guide to Laboratory Ergonomics. Research Triangle Park, NC; 2001.
Kennedy D. Analysis of sharp-end, frontline human error: Beyond throwing out "bad apples." J Nurs Care Qual. 2004;10(2):116-122.
Reason J. Human error: Models and management. West J Med. 2000;320(7237):768-770.
Evans TM, et al. Evidence for a mental health crisis in graduate education. Nat Biotechnol. 2018;36(3):282-284.