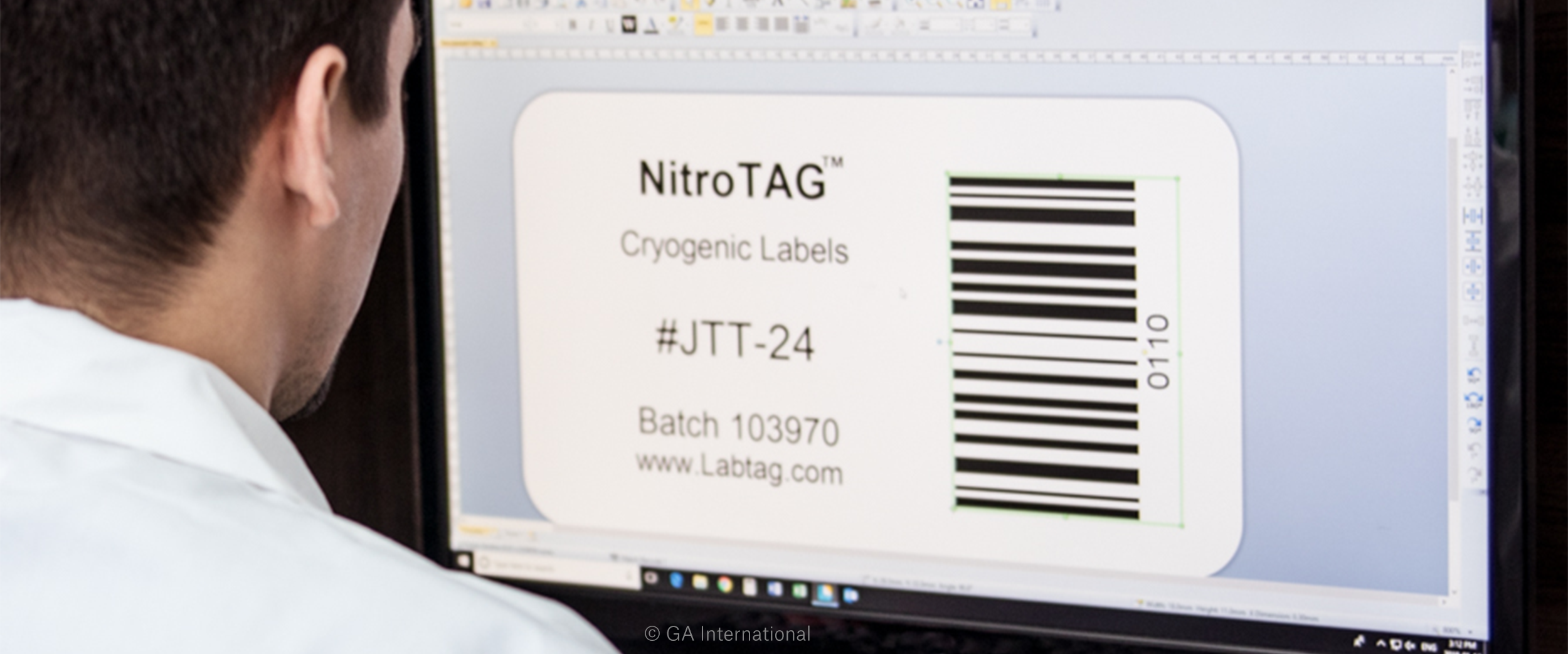 So, you've decided to purchase a set of labels and a label printer, but you haven't figured out which software you should install to design your labels with. There are several different options, from basic software for your label printer to specialized software, such as BarTender™ and Label Matrix™, each of which can be used on their own or as part of a laboratory information management system (LIMS). Here, we'll review some of the pros and cons of each option.
Specialized software
BarTender and Label Matrix, compatible with both digital (inkjet and laser) and thermal (direct-thermal and thermal-transfer) printers, are two of the most customizable label printing programs on the market. You can integrate data from excel sheets as well as sample databases into your template, encrypt documents, and encode radio-frequency identification (RFID) labels. Some versions give you a bit more flexibility by allowing you to produce a variety of labels using only 1 design, without having to save each file independently.
Specialized label printing software is really a must when printing barcodes. Providing a wide range of barcode types for both 1D and 2D, as well as the ability to configure barcode density, this software affords you many more printing options compared with basic software. By allowing you to print serialized information and incorporate logos and designs, this is the optimal solution for printing personalized and custom labels. However, specialized barcoding software really shows its strength when it comes to producing serialized barcodes. While basic software can produce rudimentary serialization, such as consecutive numbering, specialized software allows you to choose intervals, prefixes, and suffixes. Most importantly, it lets you import from databases and generates barcodes based on custom data.


Using LIMS to print labels
One thing to consider prior to choosing labeling software is whether your lab uses a LIMS. There exists a wide selection of LIMS, some of which have their own label printing software and some that don't; a high-quality LIMS software is likely to provide the same benefits as BarTender. For LIMS that come with software, you'll want to make sure that it's compatible with the printer you've bought. Similarly, if you're using a LIMS that doesn't come equipped with label printing software, you'll need to ensure that whatever software you select is compatible with the LIMS. In some cases, you may want to install software like BarTender to supply additional functionality that your LIMS software may not be capable of.
The use of LIMS is usually a choice you'll make separate from what label printing software you need. LIMS are used to improve sample management and overall lab productivity, goals that can be better achieved with barcoded labels. The most important thing to consider is whether your LIMS, printer and software are all compatible. While specialized label software can provide additional functionality, it might not be entirely necessary.
Printing with pre-loaded printer software
Most label printers come bundled with their own proprietary software, such as ZebraDesigner for Zebra printers, CABlabel S3 Lite for CAB printers, and LabelWriter for DYMO printers. These programs offer a basic set of printing options, giving you simple templates to print from. Some printers offer additional features, like ZebraDesigner and LabelWriter, which allow you to generate barcodes. However, barcodes designed this way are usually simple, with limited possibilities for customization.
Another way to print labels is by using Microsoft Word. Most scientists have access to Microsoft Word, through either the university or the company they work for, but for those who don't, Word may represent an additional expense when buying a laboratory label printer. With Word, templates can be provided for sheet labels only and will allow you to input label data from excel sheets. Barcodes can also be generated using Word with the help of third party add-ins.
With so many options, selecting printing software for your label printer can seem complicated. The choice is ultimately based on your laboratory needs; you might require specific types of barcodes or you may have to transfer large datasets directly into your software to print a high volume of labels. It is important to understand what you're going to print and how, and to assess whether the program you eventually pick is compatible with your choice of lab labels, your printer, and your LIMS (if you're using one, of course).
LabTAG by GA International is a leading manufacturer of high-performance specialty labels and a supplier of identification solutions used in research and medical labs as well as healthcare institutions.