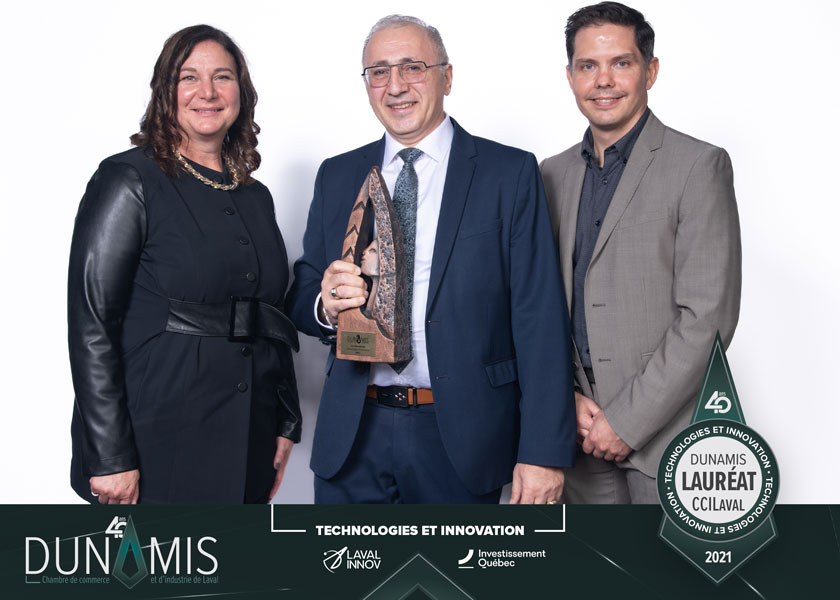 Summary: GA International is awarded the 2021 Dunamis prize in "Technologies et Innovation" from the Laval Chamber of Commerce and Industry.
The Dunamis Awards are an annual competition, now celebrating its 40th edition, organized by the Laval Chamber of Commerce and Industry in order to highlight and encourage the businesses and entrepreneurs who help keep Laval's economy growing. The 2021 edition of the Dunamis awards in particular aims to recognize the Laval companies that have adapted and continued to flourish throughout the COVID-19 pandemic. They celebrate the successes, changes, and adaptations companies have put in place to provide sustainable jobs in the community and to encourage their sustained growth.
Dr. George Ambartsoumian, who runs GA International, a label manufacturing company that designs identification solutions for research laboratories, medical and bio-pharmaceutical facilities, and other industries, was chosen as a finalist in two categories, "Exportation" and "Technologies et Innovation," for the 2021 edition of the Dunamis awards. Dr. George Ambartsoumian won the award for Technologies et Innovation at the 40th edition of the Gala Dunamis of the Laval Chamber of Commerce and Industry, held live on November 11th, 2021. The award was presented in person to GA International by Laval Innov and Investissement Québec.
Since its inception in 1999 as a one-person company, GA has grown considerably, with over 100 employees to go along with strong R&D capabilities and a dozen patent-pending products, including tags for the identification and storage of hard-to-label tubes and containers, as well as labeling accessories that make identifying samples more efficient and less time consuming. GA is undergoing further expansion, moving to a new locale with larger production facilities at the beginning of 2022, providing the company with more space to operate and develop novel identification solutions. Dr. Ambartsoumian expects the company to keep growing for years to come and increase its global footprint.
"The journey of building an innovative company was amazing. We refuse to impose any limitations on ourselves, and we constantly aim towards the innovation and expansion of our capabilities."
GA International is currently one of the worldwide leaders in manufacturing solvent-resistant and cryogenic labels. Its brand, LabTAG™, offers a wide range of high-performance identification solutions tailored to biomedical laboratories, with customization services that make it possible to manufacture labels of various sizes, colors, and shapes with image and data printing, while maintaining stringent quality control requirements under ISO 9001:2015. They are also making advances into the field of RFID technology, having recently acquired new equipment that allows them to manufacture custom RFID identification solutions. GA also provides tracking and identification equipment, such as barcode printers, scanners/readers, data printing, and data collection hardware and software. GA's team of motivated scientists and professionals have in-depth knowledge and experience working in biomedical laboratory environments and strive to ensure that their identifications solutions are tailored to the needs of each individual customer.
LabTAG by GA International is a leading manufacturer of high-performance specialty labels and a supplier of identification solutions used in research and medical labs as well as healthcare institutions.