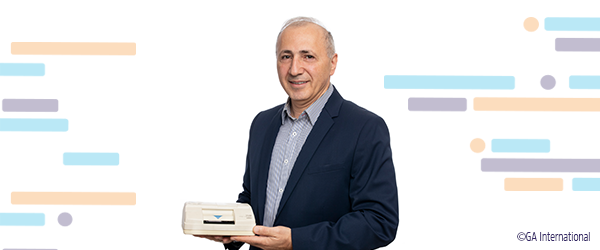 As any entrepreneur will tell you, developing a company from scratch isn't easy. Here's the story of how George Ambartsoumian, founder and CEO of GA International, a scientist started a company and grew his company from a one-person enterprise to one of the worldwide leaders in laboratory identification solutions.
The start of something big
Like many of the people who work at GA International, the founder, and CEO, Dr. George Ambartsoumian, also started his career as a scientist.  He earned a Ph.D. from the Kazan State Academy of Veterinary Medicine in Russia as well as a Doctor of Veterinary Medicine (D.V.M.) from the Yerevan Veterinary Institute in Armenia. He followed up his degrees by performing post-doctoral research in Montreal, starting first at the Biology department of Concordia University and moving on to the Cancer Research Institute at the Notre-Dame Hospital. He spent another two years studying transcriptional regulation in bone development at the Shriner's Hospital from 1996 to 1998, and it was there that he first had the idea to start a company of providing labeling and identification solutions to laboratories.
While working in the lab, George was having trouble with labeling his samples. He found that the labels typically sold for biomedical research would continually fall off his tubes, especially when they were stored at sub-zero temperatures.  Even worse, whenever he used solvents, like xylene, the labels would become wet and mushy, and the information would get erased, an observation that proved to be important in establishing GA. After finishing his work at Shriners Hospital, George decided to become an entrepreneur. While unemployed, he met an acquaintance who was selling a small label-making toy, called STIKA. George wondered if he could use this toy to design better labels than what was available at the time. So, he began to learn all he could about plastic film, paper materials, and adhesives, all with the goal of ultimately coming up with a way of making labels that would stick to tubes without failing, even when they were frozen. Eventually, he finally had a label that worked well in deep-freeze laboratory conditions and realized that scientists would need durable labels for their research. He presented his idea to SAJE a Laval, Quebec organization helping young entrepreneurs to start businesses, and he was rewarded with a small 9-month stipend that made it possible for the business to grow. George then started promoting his labels to laboratories, going lab to lab selling these labels throughout Canada and the United States.


Building from the ground up
By 2004, the company had gained some solid footing, and at that time, there was only George and his wife, Armine, and one helper working out of the 2nd floor of a small office building. Naturally, there were a few challenges. As he recalls, "We needed to test our cryo labels, so we ordered a tank of liquid nitrogen. Of course, there was no elevator, so the poor delivery man had to carry a heavy tank filled with liquid nitrogen up the stairs then through a narrow hallway to get it inside the office." Shipping was also a bit of an issue: with a lot of experience in science and research but little in the retail industry back then, George was delivering samples of his high-tech labels in general-purpose envelopes, without any additional packaging or bubble wrap. He was extremely dedicated to his business though, going so far as to take business calls while at a theme park with his family, jotting down orders on his hand as he tried to make out what his client was telling him over the roars of the rollercoasters behind him.
The company steadily grew and, in 2005, George finally hired their very first employee. Two years later, they moved to a new location, having more than doubled in size, with a full 4 new employees, and in 2008, GA finally had its first flexographic label press. Around this time, the business was making a name for itself by selling xylene-resistant labels and ribbons for histology as well as cryogenic labels later called NitroTAG™.
Expanding the company
Today, the company has over 65 employees, with more personnel added every month. GA now sells more than 6,000 individual products, a huge increase over the one type of label that George started with. With the help of experienced scientists, GA produces an array of cryogenic, autoclave-resistant, solvent-resistant, and other specialty labels in any color or size. The company has developed a strong R&D arm and can produce any custom order. They sell a large variety of thermal printer brands, with their own newly developed thermal-transfer printer, the GA Cody-300, set to hit the market later this year. GA has several new patent-pending products that came out earlier in the year as well, including the PCR-TagTrax™, a novel tagging system for PCR tubes, strips, and plates, the PikaTAG™, a label applicator for small vials, including vials with indented caps, and ResiTAG™, a brand of tags to identify samples embedded in resin for use in electron microscope. GA also recently acquired a barcode verification system in 2018, giving them the ability to produce ISO verified barcodes for customers with clinical data printing needs. Finally, for all of Dr. Ambartsoumian's hard work developing GA, he earned himself a nomination as a finalist for this year's Ernst & Young (EY) Entrepreneur Of The Year® 2019 Award in the Quebec region (the winners of the contest will be announced November 7).
GA has been through many ups and downs over the last 20 years, finally becoming the leading manufacturer and supplier of cryogenic and solvent-resistant labels worldwide. GA is soon moving its headquarters to new offices and a state-of-the-art factory, which should make it easier for GA to develop new products and increase its production capacity. The company is also looking to add more automation and digital technologies to its platform, to engage more business, and to establish new partnerships, nationally and overseas, with a wider selection of products for industries besides life sciences. For Dr. Ambartsoumian, this is just business as usual though, as he has always given his full support to both his clients and employees, from writing orders down on his hand when vacationing with his family to bringing in muffins every Monday morning for his dedicated office staff.
LabTAG by GA International is a leading manufacturer of high-performance specialty labels and a supplier of identification solutions used in research and medical labs as well as healthcare institutions.