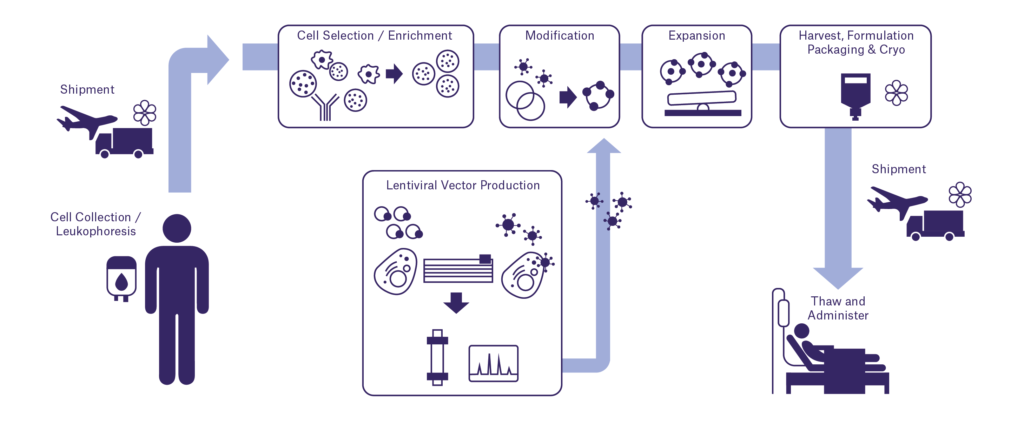 Chimeric antigen receptor T-cell therapy (CAR T) technology, also known as adoptive autologous immunotherapy, has been around for nearly 20 years. While CAR T has found immense success in the clinic, with a handful of therapies like Yescarta®, Kymriah®, and Tecartus® that are FDA-approved for a variety of cancers, the complexity of the process means there is still much room for improvement, particularly when it comes to sample identification and tracking of cryogenic bags used to deliver the immunotherapy to patients.
What is CAR T cell therapy?
CAR T cell therapy involves the extraction of infiltrating T-cell lymphocytes from the patient, genetic alteration of the cells (often with a viral vector, such a gamma-retrovirus or lentivirus) to express a chimeric antigen receptor (CAR) capable of recognizing specific types of cancer cells, and expansion of the new cell lineage. The product is then infused into the patient with enough modified T cells to seek and kill tumor cells. The CAR is often made from a single-chain antibody fragment that recognizes specific cancer cell receptors, allowing T cells to target and kill them.
Labeling considerations for CAR T cell therapy cryogenic bags
The bags used to deliver the modified T cells are specialized beyond mere blood bags and represent one of the biggest challenges in sample identification for CAR T therapy. These bags must be identified alongside metal transport cassettes and Tyvek outer packaging, all of which are associated with the cryogenic bags, which are often prepared in a centralized facility, then transported in continuously monitored vapor-phase liquid nitrogen vessels to clinics to be processed and given to patients. Each new type of therapy bag also has its own unique criteria and requirements, necessitating the production and testing of a new labeling solution before application. Partnering with a label manufacturer that can aid in the designing, testing, and validation of labels that will properly adhere to the IV bag, Tyvek outer packaging, and metal cassettes can greatly facilitate this process.
Since labels need to comply with performance, appearance, and regulatory safety criteria, several issues must be addressed when developing a label for these therapy bags:
The label material and adhesive must remain affixed at room temperature as well as during storage in vapor-phase liquid nitrogen, without compromising label adhesion or peel strength.
The label and adhesive ought to conform to the bag's shape when filled with liquid and stored in liquid nitrogen.
The labels must withstand thawing procedures and remain fully attached after retrieval from cryogenic storage.
The labels must resist cleaning protocols such as rubbing with sanitizing wipes.
Leachability and extractability criteria should be within the standards established for primary labels applied on cryogenic bags.
Labels and their printout must withstand abrasion and scratching during procedures associated with cleansing, removal, and processing.
Labels of an appropriate size must be printable with commonly available thermal-transfer printers, resulting in a printout with a satisfactory barcode grade and readability.
For the metal transport cassettes, labels that adhere to metal under cryogenic conditions, such as MetaliTAG, are ideal, as they are specially designed to adhere to metal surfaces in liquid nitrogen (-196°C/-321°F).
Something else to consider is the use of liquid nitrogen, or the lack thereof. Some labs have started to use freezing systems that do not require liquid nitrogen, including the Asymptote VIA Quad, Duo, and Research Freezers. It is imperative that labels be tested to ensure it is compatible with the desired freezing method.
Other identification challenges in CAR T cell therapy
Manufacturing CAR T cell therapy products is a complex process; quality often depends on the manufacturing environment. cGMP regulations must be followed, and the certificate of analysis must meet established acceptance criteria for every lot. For commercialized therapies, scaling up manufacturing capabilities requires accommodating independent production of multiple components in parallel.1
To do this, facilities require intricate identification systems that can accurately track, identify, and trace patient samples, from the initial clinic visit to infusion of the product into the patient. Barcodes and/or RFID labels are integral to an efficient identification system, with proper scanners, thermal-transfer and/or RFID printers, printing software, and inventory management software all working together to keep production running smoothly and error-free. Here, automation can be key feature to mitigating human error and reducing overall costs, with automated labeling systems that print and affix labels, all of which can save time and prevent expensive mistakes from creeping in. Some systems are built in with scanners or images, providing quick and automatic verification.
Designing an identification solution for CAR T cell therapy facilities can be as intricate as the therapy itself. That's why having a manufacturer like LabTAG that can fully customize the identification solution from start to finish is imperative. By assessing the needs of your production facility, they can provide the right type of labels, printers, scanners, and software so that samples are accurately and efficiently identified, regardless of the complexity of the manufacturing process. LabTAG has a series of label candidates and is ready to partner with companies to engage in validation exercises to complete the regulatory requirements for such labels; that way, the label can also be tested internally beforehand to ensure that it fully meets all the necessary requirements.
LabTAG by GA International is a leading manufacturer of high-performance specialty labels and a supplier of identification solutions used in research and medical labs as well as healthcare institutions.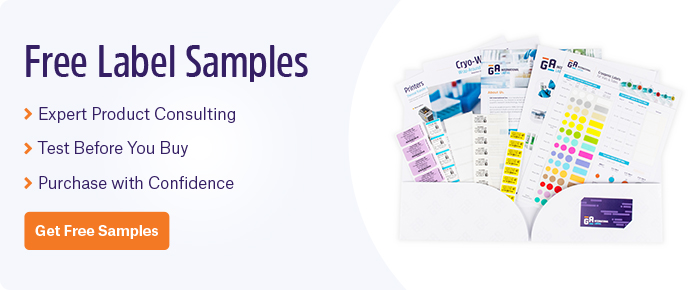 References:
Wang X, Rivière I. Clinical manufacturing of CAR T cells: foundation of a promising therapy. Mol Ther Oncolytics. 2016;3:16015.
Iyer RK, Bowles PA, Kim H, et al. Industrializing Autologous Adoptive Immunotherapies: Manufacturing Advances and Challenges. Front Med (Lausanne). 2018;5:150.