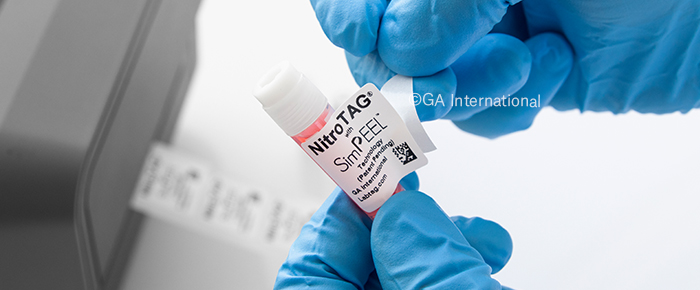 Labeling is performed daily, with large experiments sometimes requiring hundreds of sample tubes, each of which must be identified appropriately. Most laboratory personnel must wear gloves when performing these experiments to protect themselves from harmful chemicals and shield their samples and cell lines from potential contamination. This can be problematic, as most labels' adhesives are designed to adhere firmly to their intended surface but will also stick to your gloves, making it difficult to affix the label to your tube or vial. Here, we'll review some of the ways you can streamline sample identification using glove-friendly labeling techniques.
Add SimPEELTM technology to your labels
SimPEEL is a new, patent pending technology that simplifies peeling and applying labels. Using this innovative design ensures that labels will stick to their surface and not your gloves, eliminating the risk of adhesive contamination, which can negatively affect the adhesion of the labels over time. The ease with which labels can be peeled and applied makes SimPEEL ideal for any lab, especially for routine, high-volume labeling. Add SimPEEL to any existing label class or brand with permanent or removable adhesives.
Use removable labels instead of permanent labels
Removable labels have a removable adhesive that can come in handy when you must wear gloves to label your tubes and other containers. While removable doesn't always mean glove-friendly, the nature of the adhesive usually ensures that your labels won't remain stuck to your gloves, making application easier. There is a wide selection of removable labels available for many applications, including cryogenic labels, chemical-resistant labels, and autoclave-resistant labels, with removable tape also an option in some cases. The other advantage of using removable labels is that they can be…well, removed. That way, you can easily reposition the label if placed improperly or relabel things like glassware and other labware that only need to be labeled for a short time. In fact, some removable labels aren't manufactured with an adhesive at all (e.g., UbiCling™), using static cling instead to stick to flat plastic or glass surfaces.

Use adhesive-free tags instead of labels
Another simple glove-friendly labeling solution is to use specialty tags. Being adhesive-free, they are easy to handle, with or without gloves, as they don't stick to anything. These tags are designed for specific uses:
Cryo-ID-Kit cryogenic tags are used for the identification of metal racks in freezers and liquid nitrogen Dewars.
ResiTAG™ labels are used in transmission electron microscopy for specimens that require embedding in resin molds or capsules prior to sectioning.
FormaliTAG™ tags are used for specimens preserved in containers of formalin.
PCR-TagTrax™ allows PCR tubes, strips, and plates to be identified during sample prep, throughout the thermocycler run, and even during subsequent freezer storage.
Identify your PCR tubes and plates with PCR-TagTrax™
When it comes to labeling PCR tubes and plates, dot labels can be useful. However, the new patent-pending PCR-TagTrax, an adhesive-free tagging system designed for PCR, is a far superior product for identifying these samples, and it won't stick to your gloves. As anyone who has performed a PCR reaction can attest, the specter of RNase contamination requires that gloves are worn at all times. With the PCR-TagTrax, this is no longer a concern, as you can easily tag individual PCR tubes, strips of up to 8 tubes at a time, and qPCR plates without skirts. It also provides more space to print on than label dots and is compatible with nearly all brands of thermocyclers so that it won't interfere with your reactions and allows tubes to be labeled throughout the experiment. This glove-friendly labeling tag can even be turned into a stand for your tubes, making it easier to organize and store them.
Use PikaTAG™ for dot labels
Because dot labels are can be relatively small, especially for tubes with indented caps, they are extremely difficult to apply, particularly when wearing gloves. For these labels, the simplest and most efficient solution is the PikaTAG, which is an ergonomic handheld label applicator. It has a pen-like handle with a sticky end, allowing it to pick up small labels directly from their liner and attach them to the tops of tubes, all without the label ever touching your gloves. This allows even labels that don't have a removable adhesive to be easily applied without worrying about them sticking to your gloves. It can be used to apply labels to the tops of 0.2 ml, 0.5 ml, 1.5 ml, and 2 ml microtubes and cryo vials, vials with indented caps, as well as 8-well PCR tube strips. It has other benefits too, including speeding up the rate at which you can label and helping you avoid the risk of repetitive stress injuries that comes with labeling high numbers of samples.
So, if you're like most labrats who wear gloves nearly the entire day, don't fret if your labels keep sticking to them. We're here to make labeling easier, with glove-friendly labeling options that also provide additional benefits for sample identification, helping you prevent errors and keep track of your samples.
LabTAG by GA International is a leading manufacturer of high-performance specialty labels and a supplier of identification solutions used in research and medical labs as well as healthcare institutions.