After a long hiatus, our lab fails contest is back! Though it's been a rough couple of years living through the COVID-19 pandemic, there's always room for a little humor, and what better way to lighten the mood than to highlight some of the funniest and most self-deprecating moments in science. We asked for your worst lab fails, and you all delivered one of the strongest collections of gaffes and hiccups we've ever seen. Without further ado, here are your Lab Fails 2022 winners:
#1 – The Smallest Blot in the World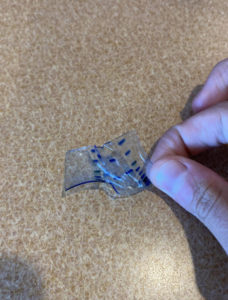 From the author:
"SDS-PAGE gel dried out!"
#2 – How did that get there?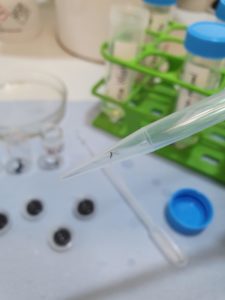 From the Author:
"Found a bug in my autoclaved pipette tip! And I don't work with bugs!!"
#3 – How Did You Get in There?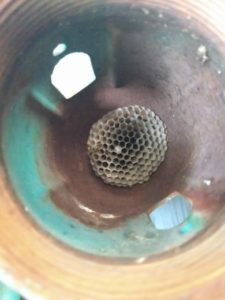 From the author:
"Wasp nest in gas cylinder cap."
#4 The Happiest Gel in the World

From the author:
"While making an agarose gel for genotyping, it boiled over and made the cutest little happy face! It was definitely a happy accident."
#5 – When Too Much is Really Too Much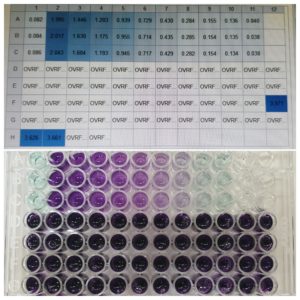 From the author:
"Didn't need to run the plate in the reader to know the BCA protein assay had far too much protein in the samples."
#6 – Organisms Aren't the Only Things that Age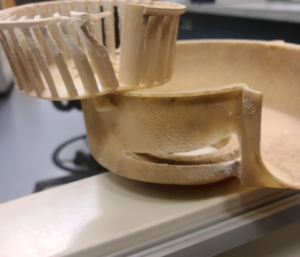 From the author:
"It seems I'm patching or fixing equipment on a weekly basis. They all seem to be -80s, liquid nitrogen units, or incubators. This beauty to dates back to 1998. I honestly can't complain about equipment lasting 24 years. I got called into one of our cell culture rooms to check out an overheating incubator. It was programmed to run at the typical 37°C but for some reason was running at 57°C. There was a buzz coming from the unit. You know, the sound of an unbalanced centrifuge. Upon unscrewing the upper shield, I find the thermostat probe rubber housing shredded into tan and white plastic shreds, and I can hear the fan running loudly. I'm sure some of you know the Forma 3110 and how the fan is inside an assembly. Unscrewing the assembly, I see the fan's fins have worn off and snapped, and a rather large hole has been carved into the back side of the blower scroll assembly. One week later and $400 in parts, and she runs like new."
#7 – The Last Hope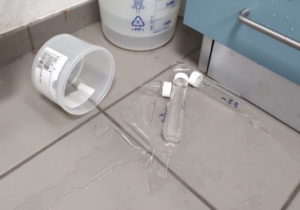 From the author:
"Broke 2 out of 8 of my calibration standards. I had only one more measurement left…"
#8 – The tray of Neglect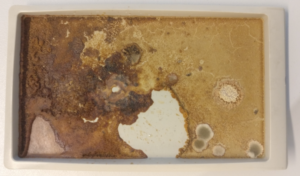 From the author:
"More straight neglecting of equipment than fail, but the condensation water tray of our centrifuge lab hadn't been cleaned for at least a decade."
#9 – Offensive Gas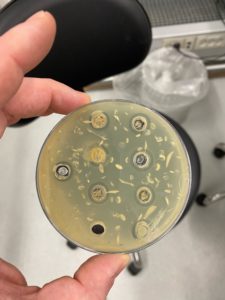 From the author:
"Probably E. coli producing gas, making these disc-like bubbles in infused agar. This messed up 260 plates and wasted a long day's work."
#10 – Notebook Experiment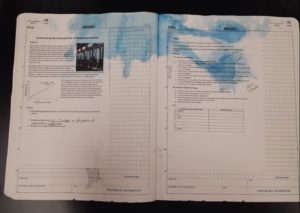 From the author:
"My ancient school lab notebook. We were studying how (a pricey amount of) Bradford reagent can be used to detect proteins via a color change from reddish brown to bright blue. So, I eventually managed to knock the whole bottle over onto my notebook and discovered that it is in fact made of paper, which is made of tree, which is made of protein. Surprise!"
Lab Fails of 2022 Honorable Mentions: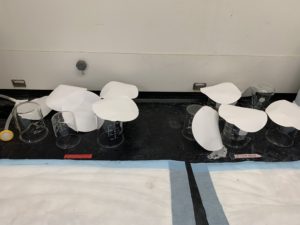 From the author:
"I asked an analyst to dry some filter paper that was dipped in lead acetate solution. I came back to see this. I cannot explain what I am seeing"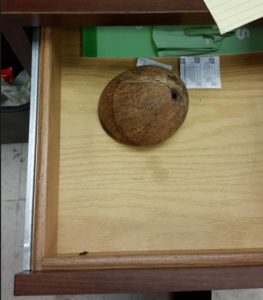 From the author:
"The attached photo is of coconut shells I found in one of the drawers in our lab. No one appears to know what they're for, when we acquired them, or why we have them in the first place."
LabTAG by GA International is a leading manufacturer of high-performance specialty labels and a supplier of identification solutions used in research and medical labs as well as healthcare institutions.