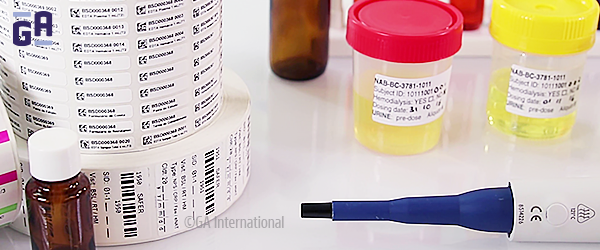 In 2015, the US Food and Drug Administration (FDA) began implementing the Drug Supply Chain Security Act (DSCSA), requiring pharmaceutical companies to track prescription drugs as they are distributed. This is especially necessary for different drugs that come in similar packaging, as the barcodes are usually the primary means of differentiating the two. Though the FDA has provided strict guidelines for tracking approved drug therapies, there are still no specific guidelines for investigational drugs used in clinical trials. Here are some things to consider when deciding how to barcode for clinical trial packaging marked for production and distribution to research pharmacies.  
Barcode Type
Many have suggested using standardized barcodes for investigational products used in clinical trials. The consensus is that GS1 standards should be applied to ALL products, not just approved drugs currently on the market, for everything from packaging to patient delivery. The main advantage of using standardized barcoding for clinical trials is the time and money it saves by mitigating the need to re-label packages. Because research pharmacies often organize hundreds of clinical trials simultaneously, they must also dispense study drugs in a manner that conforms to their own labeling system. This means that if pharmaceutical companies are supplying packages with different types of barcodes, they must all be re-labeled by the research pharmacy to conform with its own system in order to track and trace the drugs, wasting time and resources. By using a standardized barcode across all pharmaceutical companies, you would only need to generate one barcode at the time of production, which can be used all the way through, including delivery to the patient. Using a standardized barcode also improves patient safety, reducing the number of errors that could occur between the initial delivery of the package to the research pharmacy and the re-labeling of the product.
So, what barcodes are acceptable by GS1 standards? Their guidelines for clinical research state that only the 2D Data Matrix barcode should be used. Data Matrix can encode alphanumeric text and binary code. They have fast readability and high fault tolerance, but their best feature is the ability to scale down for packaging where space is limited. These barcodes can also be read using either a scanner or mobile phone/tablet equipped with the proper app. Note that the Data Matrix ISO version ECC 200 should be used as it is the only barcode version that supports GS1 system data structures.


Barcode Quality and Verification
According to GS1 standards, barcodes require verification to guarantee their quality. This involves grading barcodes—either on a scale of 0 to 4 or with a letter grade of A, B, C, D, or F—based on a variety of parameters specific to the type of barcode being used. For 2D barcodes, such as the Data Matrix, grading is initialized with a pass/fail test on whether it can be decoded; if it passes, all other parameters are then tested.
Methods of Improving Quality of Barcodes for Clinical Trial Packaging
Common reasons for poor barcode quality include physical damage, printing inconsistency, quiet zone violations, and high barcode density. The best way to print high-quality barcodes that resist damage and yield high printing consistency is by using a thermal-transfer printer, which can resist many harsh environments, including extreme temperatures and chemical exposure, much better than either direct thermal, inkjet, or laser printouts. To ensure variations in printing consistency don't affect readability, always regularly inspect and maintain all printing equipment. However, while damage to the barcode cannot always be prevented, employing superior-quality labels, varnishes, and laminations can help protect your barcodes from becoming damaged. Finally, if there is too much information encoded, the barcode can be increased in size, where possible, though you'll also need to provide enough space for the quiet zone surrounding it.
For every type of label GA International manufactures, we can provide high-quality 2D Data Matrix barcodes that conform to stringent industry standards, including ISO/IEC 15415, ISO/IEC 15416, 15416-1 and 2, ISO/IEC TR 29158 (AIM DPM-2006), and GS1. Our grading system can verify and grade 1D linear barcodes, such as UPC, Codabar, Code 128, Code 93, Code 39, GS1 DataBar, Interleaved 2 of 5 (ITF), as well as 2D symbols, such as Aztec, Data Matrix, QR, PDF417, MaxiCode, and Postnet. Equipped with the TruCheck Omni™ barcode grading and verification system, we can generate and provide barcode grading reports for individual or specific sequences of barcodes.
LabTAG by GA International is a leading manufacturer of high-performance specialty labels and a supplier of identification solutions used in research and medical labs as well as healthcare institutions.