As a follow-up to our piece about BarTender 2019, we discuss the recent announcement of its 2020 and 2021 updates. These new updates of the most versatile label printing software available on the market yield additional functionality, improves the user interface, and expands its database coverage. Here, we review the top 4 new additions that will improve how you manage databases and print labels with BarTender.
#1 – Improved User Interface (UI)
The 2020 version of BarTender introduces performance improvements, with enhancements to the print portal, making the software more user friendly, and streamlining functionality. The print portal specifically has been updated with a modern, responsive UI, making it easier to use, and providing a better user experience. This includes printing of PDFs, which is now supported directly from Print Portal. Another new feature is the option for driverless printing. Print jobs can now be streamed directly to the printer without installing a printer driver. This allows print jobs to be sent to any printer in the network, even remote printer locations.
Additional options have also been included to make organization simpler for all users. The sorting options have been further improved, making it easier to group your documents into folders and sort them into different categories. New features are also available to administrators regarding what happens after printing. These features can be used to make reprinting a document simpler, including reprinting with altered data, or using a different printer.

#2 – New database connectors
The 2020 edition of BarTender will allow you to import databases from several new sources, including:
Excel Online – The on-line version of Microsoft Excel on-line offers almost all the same features available in the off-line version without the high cost. This free version of excel still includes tools to gather, visualize, and analyze spreadsheet data.
JSON – Javascript Object Notation (JSON) is an unstructured, human-readable database. It allows you to dump data into the database as it becomes available, without the need to adapt it, using specialized language. This makes JSON a more user-friendly computing option versus such databases as XML. With the new update, when using the Database Connection Setup wizard to connect to JSON, you can embed data directly into the wizard without any external sample data file required.
Google Sheets databases – Google sheets allow users to gather, organize, edit, and analyze data, similar to excel. Designed to be used on-line, Google sheets is ideal for collaborations, allowing multiple users to edit the spreadsheet in real-time. It has grown into a viable alternative to Excel and is free to use. Several of its more advanced features, including the fact it's a cloud-based app, means it can be used as a database.
#3 – Workflows
The new Librarian workflow designer is a companion application, providing options for content management of your saved documents and files. It can be used to create comprehensive processes and generates a complete revision history of your work. Utilizing a simple drag and drop interface to move documents across different states (i.e.: design, review, production) makes creating workflows easy and intuitive. This new feature also allows multiple label workflows to be created across your organization, tracking the status of files from start to finish. Access to files can also be limited to certain users, depending on its stage in the life cycle, helping to streamline processes and work timelines. Alerts can be set up to notify users when a file changes state and is ready to be worked on, or reviewed. User templates can also be established, making adding new users quicker, as permission will be assigned automatically, according to the user group. This streamlines adding multiple new users, as user permissions won't need to be allocated individually. The print portal can also be added to the Librarian workflow configuration for added connectivity, and ease of use.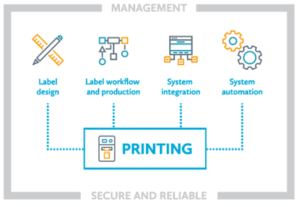 #4 – BarTender Designer Improvements
BarTender designer has made improvements to its template and data entry forms. Support for automation of table object databases was added in the last update, though this feature was reportedly difficult to use. Enhancements to this feature have made it easier to use, allowing automation to be used to dynamically change the record set for a table object. In addition, several data entry controls and enhanced viewability options have been implemented to make navigation and data input easier for users.
LabTAG by GA International is a leading manufacturer of high-performance specialty labels and a supplier of identification solutions used in research and medical labs as well as healthcare institutions.