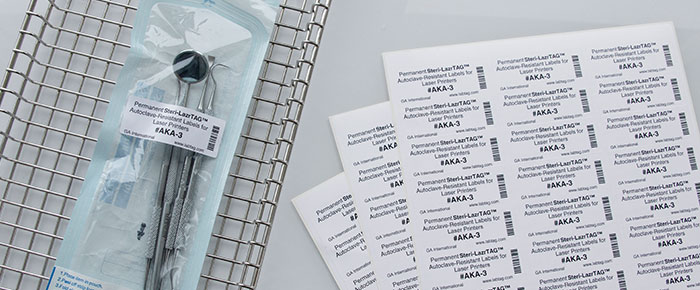 There are several types of sterilization packaging systems on the market today. These containers are designed to maintain the sterility of the contained items while allowing the penetration of the sterilizing agent and providing an efficient way to sterilize multiple items simultaneously. However, there are a set of guidelines and standards that they must follow, with not all packaging systems being compatible with all types of sterilization processes.
Types of sterilization containers
Sterilization packaging is a container or device (pack, wrapper, bag, or accessory) intended to be used to enclose another medical device that is to be sterilized. This package should allow the enclosed items to be sterilized by the sterilization agent and maintain the enclosed items' sterility until use. There are three main types of sterilization packages currently available: flat wrappers, sterilization containers, and paper/plastic peel pouches.
Flat wrappers can be made of either woven fabrics or nonwoven materials. Woven wrappers are usually 100% cotton but can also be made of cotton/polyester blends, while nonwoven wrappers are constituted of plastic polymers or cellulose fibers. Peel pouches are typically clear on one side, and made of paper, cellophane, polyethylene, or various paper-plastic combinations. Like flat wrappers, these containers are intended for single use. Conversely, rigid container systems are meant to be reused and, as such, are designed using more durable metal or plastics.
Prior to deciding which sterilization packaging to use, its suitability to the type of sterilization process being used must be determined, as well as if it is appropriate for the items being sterilized. A few of the criteria that must be determined are:
Does the container allow for sterilant saturation with direct contact of all surfaces of each item?
Can the container be closed completely and securely, providing a reliable tamper-evident seal?
Will it protect the enclosed items from physical damage?
Does the package allow for adequate content identification?
Rigid containers have a few added requirements, including ease of locking the container, the ability to stack containers for storage and transport, and ergonomics of design for ease of carrying. Many rigid containers have internal baskets that can also be stacked, come in many sizes, and may have solid or perforated bottoms.

Sterilization packaging standards
Sterilization packaging is classified by the Food and Drug Administration (FDA) as a Class II medical device. This requires it to meet certain regulatory standards, particularly regarding factors that affect sterility, such as package quality, handling, transport, and storage. The Association of periOperative Registered Nurses (AORN) has also released a set of guidelines that should help maintain the integrity of the sterile packaging. Moreover, sterilization containers should not exceed 25 pounds in weight, though the container must be large enough to adequately distribute all of the encased instruments such that they are exposed to the sterilant from all their surfaces. If the instruments are packed too densely, it can cause wet packs, which are considered contaminated and thus cannot be used.
Chemical and biological indicators should also be used periodically to ensure the containers continue working optimally. Chemical indicators should be placed in spots that are the least accessible to the sterilant, not in the middle or top of the container. This ensures all areas of the packaging are properly sterilized. Biological indicators, or spore tests, are the most accepted means of monitoring sterilization because they assess the ability of the sterilization process to directly kill known resistant microorganisms.
Sterile storage of the containers following sterilization protocols is also important to ensure the sterilized items don't become contaminated prior to use. As such, the storage area's temperature, humidity, and airflow must be regularly monitored and documented. The room must be clean and made of solid material that can withstand routine cleaning, have proper ventilation, with a temperature not exceeding 24°C, and 70% humidity. While the sterility of an item should not vary with the passage o time, it may be affected by excessive handling or changes in environmental conditions, such as humidity.
Proper use & labeling requirements
In addition to the above general requirements, each type of sterilization container has its own directions for use. Furthermore, regardless of container used, each sterilized package should include information on the label regarding the sterilizer used, cycle or load number, date of sterilization, and expiration date, where applicable.
Flat Wrappers – They come in varying sizes, as they need to be able to completely cover items without leaving unnecessary excess material that will make the package cumbersome or could cause steam to pool. Improper wrapping could also result in ineffective sterilant penetration and an inability to open the package aseptically. When wrapping, it is essential to ensure the first fold completely covers the package and is snug to the instrument set. For proper use, the instrument set packaging should not have any holes. This can be achieved by using corner protectors or tray liners, placing transport trays under the instrument set to facilitate handling, and avoiding stacking wrapped packages, as stacking can damage the wrapping material.
Rigid Sterilization Containers – These containers are ideal for sterilizing multiple items at once. However, not all types of instrumentation and material can undergo sterilization in these containers, so it's important to review the manufacturer's instruction manual prior to use. As these containers are reusable, they should be cleaned regularly, either manually or mechanically. This may include dissembling them first, according to the manufacturer's directions. Moreover, the material used to construct the container may become damaged if the wrong chemicals are used for cleaning, such as bleach. Finally, routine quality checks and maintenance need to be done on these containers to ensure they remain in working order.
Paper/Plastic Peel Pouches – These packages are designed for small, lightweight instruments. The sterilant enters and exits the package via the paper side, requiring the package to be loaded into the sterilizer on its side to allow the sterilant to enter and exit unrestricted. Baskets can be used for this purpose, while holders are also available that have been designed specifically for this purpose. As the plastic side of the package is stronger, labeling should be done there. In addition, some hospitals and medical centers require that items be double pouched for sterile presentation. This is to protect against tears and punctures while maintaining sterile integrity. However, not all paper/plastic peel pouches are validated for double pouching. If allowed, pouches should be placed plastic to plastic to maintain visibility and not impede sterilant flow.
LabTAG by GA International is a leading manufacturer of high-performance specialty labels and a supplier of identification solutions used in research and medical labs as well as healthcare institutions.