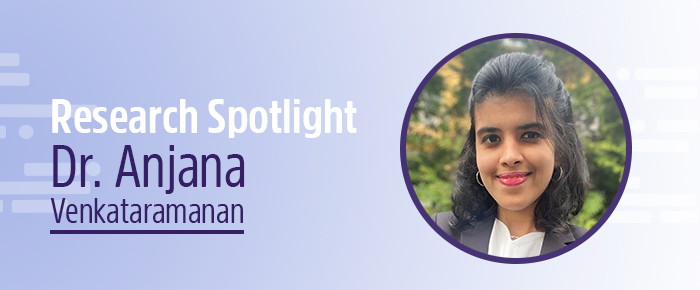 This week's Research Spotlight focuses on Dr. Anjana Venkataramanan, a former Ph.D. life science researcher who recently transitioned from academia to industry. She has now joined GxP-CC as a validation engineer consultant, working to ensure the health and safety of the general public.
Early motivation
Dr. Venkataramanan's interest in the science field began as a child. At the age of 8, Anjana remembers having a fascination with how hearts worked. Her curiosity blossomed into wanting to be a doctor—specifically a cardiologist—but her growing passions were met with disappointment when she missed the requirements for medical school by a small margin.
"Ever since I can remember, I've always wanted to be in the life sciences field because I wanted to understand the human body and all of its complexities. I simply couldn't imagine pursuing any other line of work." Although medicine was out of the question, she still pursued a career in the life sciences. A notable biology teacher in her high school noticed Anjana's interest in genetics and encouraged her to pursue the subject further.
Her journey led to Texas, where she majored in genetics, studying nanoparticles and tissue engineering—specifically in neurodegenerative diseases. "I've always been oriented towards the healthcare field and in understanding the underlying mechanisms of disease. This curiosity further motivated me towards a Master's degree in biomedical science."
Neurodegenerative disease and gene expression
In her Master's thesis, she designed a project on Huntington's disease in Dictyostelium discoideum, a single cell organism that is essentially a soil amoeba. "I observed how aggregate-mediated toxicity occurs in these organisms by overexpressing the genes related to autophagy and ubiquitination and studying the effects. I gained some valuable insight into what the pathology of a neurodegenerative disease looks like." This insight pushed her to pursue research in the neuroscience field further, this time focusing on how specific genes are expressed in behavioral neuroscience.
Having gathered experience in a variety of fields, from nanotechnology to neuroscience, Dr. Venkataramanan approached the next project, her Ph.D., motivated to discover how neurons work and how they determine complex behaviors across species. Her research revolved around the visual working memory of the fly, including the genes involved in the underlying biochemical pathways. Studying the biochemical pathways that determined short-term visual memory in fruit flies gave her the chance to mimic tauopathies and to discover how they can be studied in invertebrate animal models.
As her Ph.D. was coming to its end, she started to wonder, like many others before her, how exactly she could translate her skills into a more concrete career path. "I loved academia while I was in it and did think for a while that that's what my career path was going to be. But after spending a couple of years in research, I also started noticing other skills within me that I wanted to focus on. I wanted to nurture my communication skills and my ability to provide solutions to others understandably and cohesively."


Transitioning from Academia to Industry
After defending her Ph.D., Dr. Venkataramanan started to transition into the industry, gravitating to the pharma and healthcare industries she was attracted to when she was doing her Masters. Now working in the field of compliance consulting, she has joined GxP-CC as a validation engineer consultant. "To put it in a broad perspective, a validation consultant provides solutions and guidance to a client belonging to the Pharma and healthcare industries on whether their product or medical diagnostics are being produced in a compliant manner."
Consultants are seen as experts in their field, ensuring the safety and efficacy of the products on the market. They need to be sure that the products they recommend meet the compliance requirements for development, quality, and production. "This could involve validating computer systems used in laboratories, monitoring data integrity, ensuring that the quality management systems are in place, and so on."
Dr. Venkataramanan was excited to join GxP-CC as it allowed her to marry her scientific knowledge with her communication skills to make a difference in people's lives. I can personally vouch for Dr. Venkataramanan's science communication skills, having met virtually over LinkedIn, through peer networking, and following her engaging content. Dr. Venkataramanan, amongst many others, is part of a growing community of science content creators on LinkedIn. When I originally asked to interview her, she wasn't sure how much in-depth detail she could go into on her research. Still, she gladly agreed to share more of her story on the transition from academia to industry.
"Explore different options until you have found what makes the most sense for your interests and expertise"
Words of advice
"My advice to anyone looking to transition from academia to industry would be to seek as much information as possible on what the choices available are for your particular academic degree. Explore different options until you have found what makes the most sense for your interests and expertise. When you're in academia, you're rarely exposed to the different career paths that you could take, and for a long time, I was in that bubble, which made me panic. Educate yourself on everything you can do with your degree and then narrow down the choices to the ones you'd be interested in pursuing."
With so many opportunities out there, she stresses the importance of building relationships with people in the industry, such as reaching out to professionals in the roles you're interested in pursuing, and finding out how they got to where they are. If you've got the drive to discover something new, you should pursue it and find opportunities where you can lean into research. "Whether you stay in academia or decide to transition to industry, pursuing research, even for a brief period of time, will change the way you look at success and failure. I know this because it's definitely changed my outlook on life, and I am only better for it!"
When asked how she landed her current job, she says, "I stopped sending cold applications in the last two months of my job-search and focused purely on networking and researching until I landed a position at GxP-CC. You never know what's waiting on the other side of the door if you never knock."
With the uncertainty of the current economy and job market, discouragement and disappointment are all too familiar to job seekers and fresh grads. It can be overwhelming to think about pursuing passions and the curiosities of science when opportunities seem bleak. Following the steps of the teacher who once pushed her younger self into research, Dr. Venkataramanan advises the curious and wide-eyed to find purpose in whatever you do. "My life was shaped hugely by my parents and mentors who pointed out to me that there is usually more than one way to reach my destination. So, even though I didn't end up becoming a doctor, my original goal of improving the healthcare landscape is being fulfilled by my current job. I am very satisfied with how this journey is shaping up to be."
LabTAG by GA International is a leading manufacturer of high-performance specialty labels and a supplier of identification solutions used in research and medical labs as well as healthcare institutions.