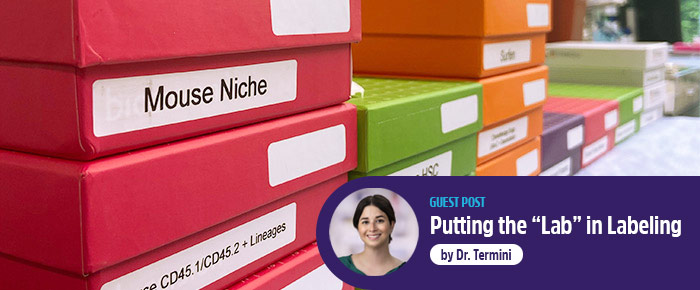 The opportunity to build a lab has been exciting, stressful, educational, and enlightening. In this post, I aim to provide tips and tricks for new group leaders to consider as they set up their labs. My goal is to consolidate specific considerations into one place for new group leaders to use themselves or share with lab members as they prepare their space for research activities. Before I start, I want to acknowledge Niki Setiawan, who worked closely with me to create many of these systems. She has been an asset to establishing the organizational systems within our lab. She is also a stellar scientist, and I expect she will make significant discoveries as she continues her research career.
All lab members can practice lab organization, much of which can be supported by a trusted lab label manufacturer. While it may not always be the group leader doing the organizing themselves, leading by example is key to setting the standards required in your laboratory. While we have only had our lab for a few months, we hope these systems will stand the test of time to support the coming and going of trainees, which is an inherent part of academic research environments. Each laboratory will have unique needs, and I hope that these examples of how we organized our lab will enable others to apply them to their laboratory.
Printer
Investing in a reliable printer can support the organization of your laboratory for years. While we have one for our lab, we would be happy to share this with our neighbors. If you do not have a label-compatible printer and do not have the budget, you might consider purchasing one to share with neighboring colleagues.
In our lab, we have a DYMO 450 printer that is compatible with many labels sold by LabTAG. This printer enables us to print all types of materials for our laboratory, including labels for tubes, racks, cage cards, and more! I enjoy this printer because it's easy to use and makes customizable and legible labels. Further, you can save label templates, making it easy to recall the same format for commonly used materials. This time-saving format makes the printer the best option for our lab. Another reason I like this printer is that it's a direct thermal printer, so we do not need to refill the ink. When combined with the wide variety of labels offered by LabTAG (many of which are safe to use on cryogenic surfaces), this tool has exceeded our expectations for our labeling needs in the lab. LabTAG offers many other thermal printer options; you may want to contact a rep to discuss your options based on your labeling needs. DYMO is unfortunately phasing out their LabelWriter 450 models but LabTAG has a solution! Check out the DiTi printer, the new alternative to the DYMO 450.
Labels
Have you ever found a box of materials from a previous lab member and wondered what it was? What is inside these tubes? Why is it still here? When was it made? I believe labels (and standardized labels) are one of the most underutilized tools in research laboratories. Sure, it's one thing to scribble on top of a tube for an experiment you are executing in the short term. But when you are labeling materials that you expect others to be able to use in the future, it is essential to label clearly, carefully, and with specificity. Here, I describe how we have used labels from LabTAG to organize some of our laboratory and materials.
"It's much easier to tell someone new in the lab, the protein is in Rack #1, Row 1, Box A in the -20°C, compared to the protein is in the second box on the rack located to the left on the middle shelf of the fridge."
Labeling boxes & tubes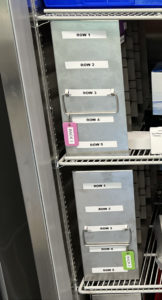 We use cryogenic labels from LabTAG to organize freezer boxes of proteins, antibodies, plasmids, and more. Because these labels stick strongly, we recommend first trying out your organization system by labeling your boxes using regular lab tape. We call it a 'demo period' in the lab, where we try a new organization scheme for a bit before committing. Once you're satisfied with how things are organized, I recommend printing your cryogenic labels to adhere to the boxes.
What you include on the label for boxes will vary based on the contents. As a flow cytometry heavy laboratory, we use boxes for storing different antibody panels; we label the box with a general name for the panel. For example, we have boxes for mouse hematopoietic stem cells (HSCs) and secondary antibodies, among many others. Because our lab works with both mouse and human systems, we chose to use pink boxes for mouse panels and green boxes for human panels to prevent confusion. If you prefer to have boxes that are all the same color, you could use colored cryogenic labels to denote species or other grouping information your lab may use to differentiate items. Again, the labeling itself will depend on how your lab functions. We highly recommend doing a few run-throughs of commonly used experiments before committing to a system, as your lab members consider the best ways to keep things organized. Would it help to have things separated by the panel? Species? Technique? All are valid questions depending on the context.
Further, your lab may also consider labeling boxes numerically (i.e., Box #1, Box #2, etc. – more on how this can be adapted below) or by the user (i.e., Tina's lysates). Either way, we recommend deciding how boxes should be labeled (with input from your lab members). Discussing the proper way to identify samples and containers with your lab members and documenting the systems in your lab handbook will help set expectations and prevent confusion down the line.
Cryogenic labels come in many sizes and colors and are also great for labeling aliquoted materials. We use them to label tubes of fetal bovine serum (FBS) and penicillin-streptomycin (pen/strep), which are aliquoted and stored in the -20°C freezer. Users can quickly grab these materials to make media for cell culture purposes. Having the labels makes aliquoting quicker than writing out date and lot numbers.
Labeling racks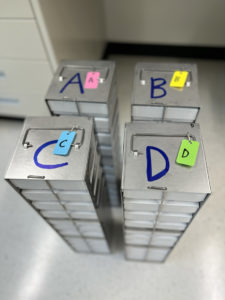 We also used cryogenic hang tags to label our freezer racks to enable us to create an inventory that associates each rack with its contents. This is useful for keeping track of lab materials and sharing supporting materials between lab members.
We chose to model our racks like an Excel spreadsheet. Racks are numbered (i.e., for the -20°C, we have Racks #1, 2, 3, and 4). Each row is labeled Row 1-5 (this will vary depending on the racks you use), and boxes are labeled inside #A-E. This has allowed us to create a coordinate system for where things are stored that can easily be paired with a lab inventory system on a spreadsheet. For example, a specific box may be stored on Rack 1, Box 1A, meaning it is in the left corner of the top row when the rack is facing you with all the boxes exposed. Again, this is just one organization model to consider, so you must test systems to decide what works best for you.
I love LabTAG's cryogenic tags for metal racks (SKU: CID-02), which have helped us label our freezer and liquid nitrogen racks not just with numbers but with colors. These hanging tags make it one step simpler to pull out a rack from the cold storage to grab the material you need by creating an association between the location and the color. These tags are sturdy and can be attached to freezer racks, liquid nitrogen racks, and anything else that can accommodate a clip in the lab. Again, the color could be associated with whatever variable is appropriate for your lab (person, species, etc.). However, there are ten color options, so depending on your needs, you may be able to have one tag per item.
LabTAG by GA International is a leading manufacturer of high-performance specialty labels and a supplier of identification solutions used in research and medical labs as well as healthcare institutions.