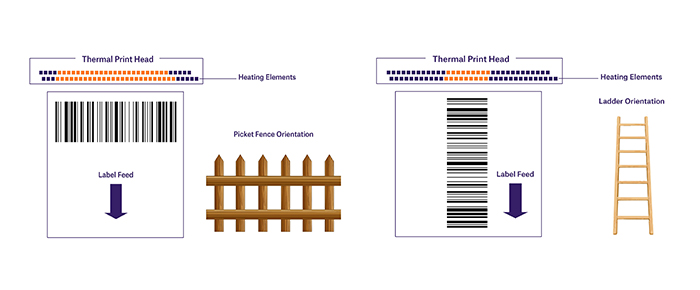 Printing barcodes is an essential step in any lab to achieving an efficient workflow without introducing identification errors. We recommend printing barcodes with a thermal printer—either thermal-transfer or direct thermal—which means that they should be printed on rolls of labels, using specialized software. There are many things to consider when printing barcodes, but one of the things that sometimes gets overlooked is barcode printing orientation. That is, should you print barcodes as "picket fences" or as "ladders"?
Anatomy of the Printhead
To appreciate the difference, it is important to understand the technology responsible for creating barcodes via thermal printing. Direct thermal and thermal-transfer printers both use the same printing technology. Microscopic heating elements are arrayed across linearly, in what is called the print head. These heating elements are activated while the label or label/ribbon combination moves under it, generating text and barcodes that appear on the label below. For a more detailed breakdown of thermal-transfer versus direct thermal printers, you can click here.
What are picket fences and ladders? 
The terms picket fence and ladder refer to the barcode printing orientation as it's printed on the label. A picket fence is one where the barcode comes out horizontally across the label:
A ladder is one where the barcode comes out vertically across the label:
Ladder barcodes are usually printed on labels used to identify small cylindrical items, such as cryogenic vials, microtubes, and Falcon tubes.
Which one should you choose?
Picket fences
Picket fences generally provide higher quality barcodes because the individual elements in the print head are steadily heated for a given period, so the barcode edges tend to be cleaner. Cleaner barcodes mean that they are more accurately read and less likely to introduce errors into your inventory and workflow.
The downside to using picket fences to print barcodes is that if there is a part of the print head that burns out, you won't be able to discern if there is an error; an entire bar will go missing, and it'll be next to impossible to notice; this can cause subsequent failed scans. To counter this, you can print a horizontal line either above or below the barcode but outside the barcode's readable area. That way, if part of the print head malfunctions, it'll be immediately visible as an interruption in the horizontal bar. This will notify the user to replace the faulty barcodes and replace the printhead right away.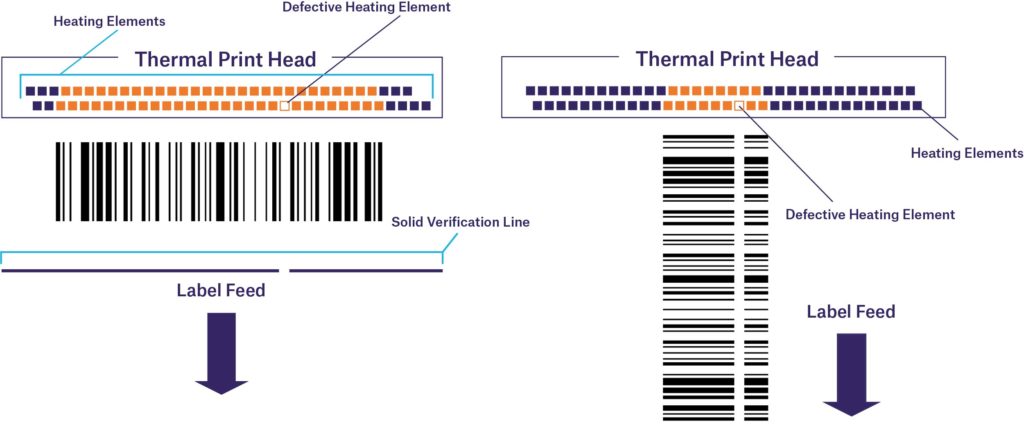 Ladders
The best thing about printing barcodes as ladders is that errors are recognizable immediately. If part of the print head burns out, it will create a missing space across all the bars. The barcode will still be readable in most cases but will alert the user that the printhead needs replacement.
Unfortunately, ladders are not printed with the same quality as picket fences. For instance, the edges can become blurred, reducing scannability, especially for small-font barcodes.
Over time, printing with ladders can also cause excessive wear on the print head. As such, printing ladders is not recommended for high print speeds. This is because the heaters of the printer can burn out quickly at these speeds, as they are constantly turned on and off several times per barcode.
If you're not sure the quality of the barcodes is sufficient for your application, you can always have your barcodes validated, a service that LabTAG offers. Barcode validation involves grading your barcodes using specialized machinery that will ensure your barcodes meet a high-quality standard, which is used to measure how likely they are to fail. The higher the grade, the less likely you are to encounter problems reading your barcodes.
The final verdict
We recommend using picket fences for most applications, as barcodes produced this way are usually higher in quality, with only an additional horizontal line required to verify the function of your print head. Ladders are better left for identifying long, cylindrical objects like conical tubes, though printing at high speeds should be avoided with this method. If necessary, barcode validation can also be implemented to ensure quality.
LabTAG by GA International is a leading manufacturer of high-performance specialty labels and a supplier of identification solutions used in research and medical labs as well as healthcare institutions.