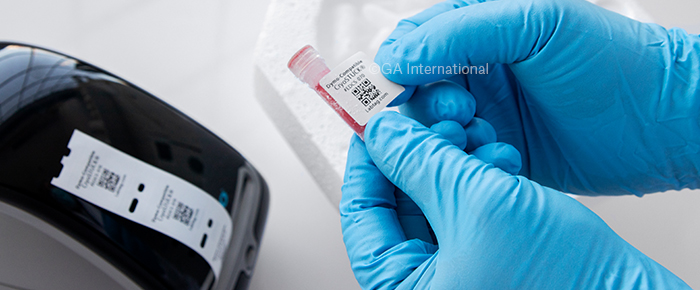 Summary: GA International develops and launches the first-of-its-kind DYMO printable label for already frozen surfaces, designed for cryogenic storage (as low as -196°C), adding another innovative product to their award-winning CryoSTUCK® line.
Overwhelming demand has led to the exciting launch of GA International's DYMO compatible CryoSTUCK labels for DYMO® LabelWriter® printers, commonly found in many research laboratories. It is a unique breakthrough in product development as no similar product exists on the market. In addition, this new product's launch is aligned with GA's mission to provide convenient access to high-performance laboratory labels for life science workers worldwide so that they may pursue their work with confidence.
Since its launch, CryoSTUCK labels have been a key product for GA International's LabTAG division. CryoSTUCK cryogenic labels are designed for labeling and re-labeling biological sample containers already stored in liquid nitrogen or ultra-low temperature freezers, such as legacy vials.
CryoSTUCK labels have an adhesive designed to stick to frozen containers at a minimum application temperature of -80°C (-112°F), ideally done on dry ice. This eliminates the need to thaw biospecimen samples before being re-labeled, helping preserve valuable samples by reducing repeated freeze-thaw cycles. In addition, once affixed, they can be restored in cryogenic conditions, including liquid nitrogen, with no cure time, in temperatures as low as -196°C. As such, this DYMO printable label for frozen surfaces is ideal for biobanks, clinical labs, and biotechnology companies that have to manage large inventories of cryogenic samples.
DYMO-compatible CryoSTUCK labels also withstand thawing in water baths and have demonstrated outstanding resistance (incidental as well as immersion) to harsh chemicals and solvents used in multiple laboratory protocols. This includes immersion in xylene for up to 30 minutes.
GA International is the worldwide leader in manufacturing cryogenic labels. They offer a wide range of cryo labels, tags, and tapes tailored for a variety of surfaces and containers, including cryo vials, microtubes, metal racks, and cryo straws. Renowned for their custom manufacturing services, they can provide custom labels without any size, color, or shape restrictions. GA also offers barcode printers, scanners, data printing, as well as data collection hardware and software, providing laboratories and medical facilities complete identification and tracking solutions.
LabTAG by GA International is a leading manufacturer of high-performance specialty labels and a supplier of identification solutions used in research and medical labs as well as healthcare institutions.