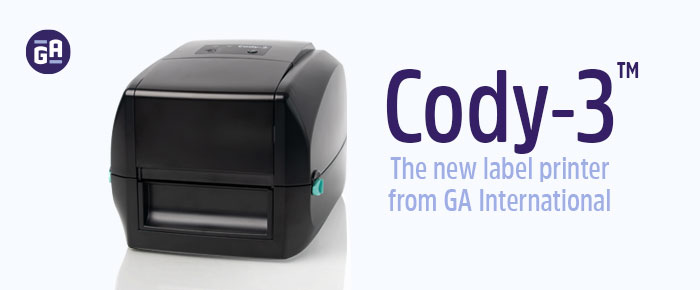 Summary: GA International has developed its own thermal-transfer printer, the Cody-3TM. This printer is a reliable thermal printer available at an affordable price.
GA International is proud to announce the launch of their own thermal printer, the Cody-3, that can print rolls of labels in thermal-transfer mode with an ink ribbon or in direct thermal mode, requiring no additional ink sources. This printer is easy to use and is provided with a free trial version of BarTender for easy barcode printing and data serialization. GA also offers free technical support to help end-users with setup, troubleshooting, or maintenance, such as calibration and cleaning.
Designed to be compatible with our vast catalog of labels and ribbons, this reliable printer will also work with third-party labels and ribbons containing no digital rights management (DRM) software. This allows the end-user to select the best printing options for their situation without restrictions or limitations. It also offers a variety of connection options, including USB and ethernet, for added flexibility and fast device connection. Offered at an affordable price, the Cody-3 is also available as a printing kit to make setup quick and easy.
GA International is the worldwide leader in manufacturing specialty labels. They offer a wide range of cryo, chemical-resistant, and autoclavable labels, tags, and tapes tailored for a variety of surfaces and containers. Renowned for their custom manufacturing services, they can manufacture labels without any restrictions on size, color, or shape. They can also custom produce RFID labels for various applications on demand. Furthermore, GA provides barcode printers, scanners, data printing, and data collection hardware and software to offer complete identification and tracking solutions to laboratories and medical facilities.
LabTAG by GA International is a leading manufacturer of high-performance specialty labels and a supplier of identification solutions used in research and medical labs as well as healthcare institutions.