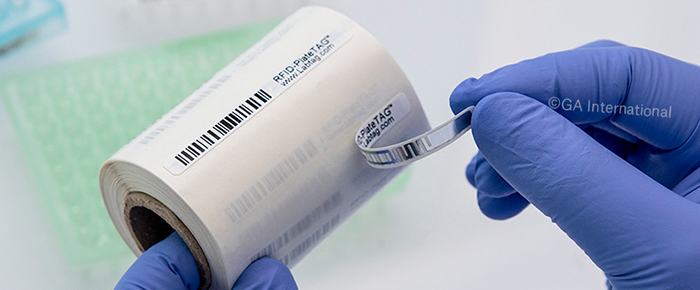 When it comes to tracking and tracing samples, the best options available are either barcode printed labels or radio-frequency identification (RFID) tags. For specimens and inventory, both RFID and barcodes have their own pros and cons, making it crucial to consider which one is best suited to your facility's demands before committing to either one.
What RFID can do that Barcodes can't
Here are some of the major benefits that RFID affords you in the lab:
Scanning from a distance: With barcodes, scanning must occur in close proximity with the label. However, RFID doesn't require such conditions, as signals can be relayed from much farther away from the tag. Note that the read range for passive RFID tags isn't solely determined by the tag itself, but by the combination of the tag's antenna and the reader used to scan it.
No line of sight required: With RFID tags, line of sight is not needed, as the tags can be read by the scanner from anywhere, provided you're within range. This also means that for samples in storage, they can be read without taking them out.
Multiple tag scanning: Instead of manually scanning each label, RFID tags can be scanned simultaneously, speeding up workflow.
Tags can be rewritten: Whereas barcodes are printed and cannot be altered, RFID tags can be reprogrammed immediately after use. This allows them to be re-used for multiple applications, as labels made with a removable adhesive can be lifted off, reprogrammed, and affixed on a new series of containers.
Higher data storage capacity: RFID provides more capacity for data storage than barcodes, as certain tags will allow you to encode small apps that can be used for tasks besides sample tracking, such as electronic payments and access control.
Increased level of security: RFID tags can be produced with unique identification numbers that prevent counterfeiting, and the data on the tag can be encrypted as well, providing additional security. RFID can even provide different levels of security on the same tag, with both encrypted and open data present on the tag at the same time.

What Barcodes can do that RFID can't
While RFID tags can certainly be useful in the lab, barcode labels offer their own advantages:
Barcodes can be printed using any printer: To encode RFID labels, a special printer or additional printer attachment is required, which is often more expensive than your typical inkjet, laser, or thermal-transfer printer. Barcodes can be printed with any of those printers, providing some flexibility when it comes to purchasing additional equipment.
They're more adaptable: For biotechnology and pharmaceutical companies, merely delivering samples between two internal departments can cause logistics problems. Barcode labels are easier to adapt to multiple tasks, from tracking inventory to shipping, particularly with the use of human-readable barcodes.
Automation is possible: Though RFID automated labelers exist, none are specifically tailored to handling tubes and vials like the systems made by Scinomix. With Scinomix automated labelers, you can print barcodes and affix them to hundreds of tubes and vials in a fraction of the time it would take to label them manually.
Standardization increases consistency: RFID-encoded tags don't have worldwide standards for grading their data storage capabilities. Barcodes have many standards, including the GS1 standard, that dictate the proper specifications for a variety of barcode types. This ensures that they're read properly and consistently, regardless of sample size. Barcode grading can also be performed to verify that your barcodes meet these stringent standards.

Tailoring the solution to your lab's needs
When making the final decision on whether to go with RFID or barcode labels, there are a few other things to consider. Overall, barcode labels are much cheaper than RFID labels, so it's important to fully assess their role in your lab and to determine whether the increased cost will ultimately pay dividends.
The environment your labels encounter is another deciding factor regarding which labeling method to go with. Not all RFID tags are adapted to metal surfaces, as many types of metal can interfere with the functionality of the tag. They also cannot be used in liquid nitrogen Dewars, necessitating the use of cryogenic barcode labels instead. However, RFID chips can be inlayed into a variety of label types that resist sterilization, exposure to harsh chemicals, and cold storage in lab freezers.
Finally, the most important thing one can do to verify that their choice of identification solution is the right fit is to test the labels. Having a manufacturer that can customize labels to meet your specific needs helps, but above all else, having free samples to test the solution in your exact working conditions is paramount to ensuring the labels are suitable to your applications.
LabTAG by GA International is a leading manufacturer of high-performance specialty labels and a supplier of identification solutions used in research and medical labs as well as healthcare institutions.