Laboratory information management system
Implementing a laboratory information management system (LIMS) is a crucial aspect of sample and inventory management. It's recommended that any disaster contingency plan have a detailed list of all instrumentation, equipment, consumables, and supplies. These items should be identified with the vendor name, general description, make/model number, asset tag number, lot number, expiration date, and other relevant data.1 Biorepositories should be outfitted with a biobanking LIMS that can manage all this information, which can be otherwise particularly daunting for labs that specialize in specimen preservation and biobanking. A cloud-based LIMS is the best option, as automatic data backups, mirror servers that host data, and information storage in remote locations protect data as its generated and make it immediately accessible in the event of a disaster.2
Barcode and RFID specimen labels
No biobanking LIMS is fully functional without proper barcode or radio-frequency identification (RFID) labels. Barcodes and/or RFID specimen labels are necessary to track and trace your biobank's inventory in real-time, monitoring reagents as their stocked and consumed as well as samples as they're processed and stored. In fact, ISBER recommends that the repository's unique identifier for each specimen should be printed on the label in both barcode/RFID format and/or human-readable form5. Even if your lab isn't outfitted with a cloud-based LIMS, utilizing barcode or RFID labels makes tracking inventory possible during a disaster, especially when samples require re-location to another freezer or, if necessary, to an off-site facility. Using appropriate specimen labels with the right printout is also crucial, as labels that fall off or become smudged or faded risk becoming unidentified. This is especially important for hazardous chemicals, as disasters like earthquakes can result in broken containers that require proper identification in order to employ the correct cleanup method.
Laboratory environmental monitoring system
Biobanking software, including laboratory environmental monitoring systems that measure multiple parameters, is frequently used to protect valuable samples during a disaster.3 These systems don't just measure the temperature of your freezers; they can track relative humidity, differential air pressure, air particles, and volatile organic compounds (VOCs) in real-time. When something goes wrong, the system immediately alerts those responsible for the infrastructure, ensuring a quick and prompt response to fix the situation. Some systems, like XiltriX, are redundant for power, connectivity, and alarm escalation protocols, offsetting any potential failures in the system itself due to the disaster, and further helping to protect your biobank's samples.

Backup systems
Even with a laboratory monitoring system, it might still be a significant amount of time before personnel are able to fully restore power and repair any damaged equipment. It's in everyone's interests to implement a certain level of backup capacity for each system. Otherwise, you can end up like my colleague who had to carry a block of dry ice up nine flights of stairs after an ice storm knocked out all power to the research facility. Some examples of additional backup systems include:3
"Dual fuel" generators that can work using either natural gas and propane or diesel
Pre-wired connectors for the generators
Replacement freezers and liquid nitrogen cryogenic specimen storage tanks
24-hour dry ice supplies for each freezer
On-site replacement parts
An actionable disaster plan
The tools suggested above won't necessarily work unless you have an actionable plan with detailed standard operating procedures (SOPs) and trained personnel. There should be clear instructions on how to protect your biobank's samples and data that take into account the nature and severity of the disaster to minimize losses and promote a speedy return to normal operations.1 There are 4 phases that need to be detailed in any disaster plan: mitigation, preparedness, response, and recovery. You'll need to determine the types of incidents most likely to occur in your lab, as well as the decision-makers, stakeholders, and potential lines of communication. Next, a vulnerability assessment is necessary to evaluate the equipment and inventory most at risk during an incident and to help decide what measures need to be taken to protect these assets. This includes freezers located on the ground floor or basements, as a flood can wipe out entire freezer farms and lifelong research samples.
In some cases, ISBER, in their specimen labeling best practices guide, also suggests duplication of specimen collections and data in distinct locations (e.g., including in different LN2 storage units) to ensure cryopreservation is preserved in the event of a catastrophic event5. The priorities for any disaster plan should favor protecting the health and wellbeing of personnel above all else, followed by the safety of stored specimens and difficult-to-replace equipment and samples. Once prepared, staff should be trained to implement the plan to increase the efficiency of response, minimizing the potential damage of the disaster.4
LabTAG by GA International is a leading manufacturer of high-performance specialty labels and a supplier of identification solutions used in research and medical labs as well as healthcare institutions.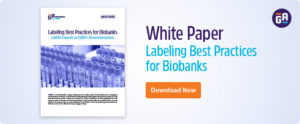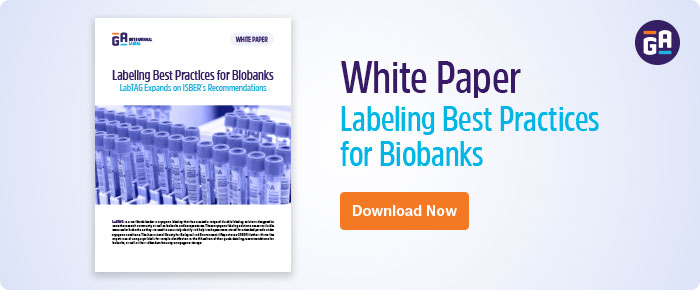 References:
Mische S, Wilkerson A. Disaster and contingency planning for scientific shared resource cores. J Biomol Tech. 2016;27(1):4-17.
Paul S, Gade A, Mallipeddi S. The State of Cloud-Based Biospecimen and Biobank Data Management Tools. Biopreserv Biobank. 2017;15(2):169-172.
Baird PM, Benes FM, Chan CH, et al. How is your biobank handling disaster recovery efforts? Biopreserv Biobank. 2013;11(4):194-201.
National Research Council of the National Academies. Emergency Planning. In: Prudent Practices in the Laboratory: Handling and Management of Chemical Hazards. Washington, DC: The National Academies Press; 2011:33-43.
ISBER Best Practices 4th Edition and addendum.