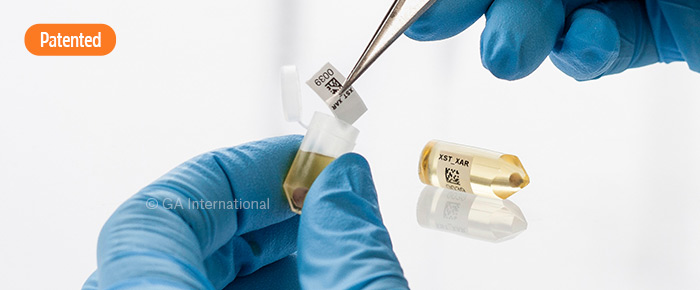 Labels are an essential component of many labs, for good reason; they are the best means of identifying thousands and sometimes millions of samples and reagents across a variety of different workflows. As such, it takes dedication to develop the right type of label for each individual lab environment, especially considering how many labels a single lab may find necessary. At GA International, specialization is key, as label designs often follow the exact needs of the scientists who request them. Conversations between the manufacturer and client are always important so that the solution correctly matches the workflow, and where a solution has not yet been designed, GA International has the resources and expert R&D personnel to create one from scratch.
Novel patented & patent pending label technologies
GatorCUT™ Technology: GatorCUT is a novel technology used to improve existing durable tapes, including laboratory tapes. Regular lab tape used for identifying samples, material, lab equipment, and various containers can often be difficult to cut, requiring scissors, cutting instruments, or even a dedicated dispenser to do so without shredding the tape. This can limit the tape's usefulness as it may tie it to a specific bench or workstation. In contrast, GatorCUT allows you to cut the tape precisely and quickly with your hands, wherever and whenever you need it. This means that tapes can now become completely portable, as they can easily be taken out and dispensed manually within seconds. It is currently available with our NitroTAPETM, CryoSTUCK®, UbiCling™, and Removable SteriTAPETM brands of tape.
SimPEELTM Technology: This innovative new technology makes peeling labels off their liner quick and easy while improving label placement accuracy. SimPEEL's design includes a unique adhesive-free tab that ensures the label will not stick to your hands or gloves, making label application simple and hassle-free. Just attach the other end of the label to the container, remove the adhesive-free tab, and apply. Currently available for various types of cryogenic labels, this new technology can be applied to any of our durable labels.
Direct thermal CryoSTUCK®: In addition to our standard CryoSTUCK labels for thermal-transfer printers, we also offer CryoSTUCk labels that can be printed using direct thermal printers. These direct thermal cryogenic labels are intended for labeling already frozen vials, surfaces, and containers under deep-freeze conditions, as low as (-80°C/-112°F), for subsequent storage in liquid nitrogen (-196°C/-321°F) or lab freezers (-80°C). Moreover, these cryo labels will also withstand direct exposure to harsh lab chemicals, including common detergents, alcohols, and organic solvents, such as xylene. We also have a version of this label designed to work with the 450-series of DYMO printers.
Zesti-DirectTAG™: These unique direct thermal labels will remain readable and scannable following exposure to high heat conditions, in contrast with standard direct thermal labels that turn entirely dark during the heating process. In addition, they display resistance to incidental chemical exposure and will also withstand storage at low temperatures, as low as -80°C. A DYMO-compatible version is also available.
ResiTAG®: This brand of chemical-resistant labels allows resin-embedded samples to be securely and permanently labeled with human-readable information, as well as 2D barcodes. The tags are designed to be inserted alongside the sample inside resin capsules or molds that are typically used for electron microscopy, making them ideal for identifying samples during resin polymerization and sectioning. When printed with a thermal-transfer printer, ResiTAG labels withstand histological resins, chemicals and solvents, as well as oven incubation, up to 149°C.
Cryo-LazrTAG™: Though we recommend thermal-transfer printers for most applications, laser printers are a widely used method of printing high-quality cryogenic labels. LabTAG offers a superior brand of cryo laser labels that resist cryogenic temperatures as low as -196°C, ideal for prolonged storage of vials, tubes, and boxes in liquid nitrogen Dewars and ultra-low temperature lab freezers.
PinTAG™: These labels are designed to simultaneously identify the side and bottom of slim profile 2D automated sample storage and retrieval tubes, including Matrix™️ and Simport®️ tubes. The innovative design perfectly fits the shape and dimensions of 2D-barcoded tubes and can be printed with human-readable text, as well as a 1D barcode on the side and a 2D barcode on the bottom. These cryo labels can be used with automatic/robotic liquid handling systems, automated sample readers/scanners, and laboratory inventory management software (LIMS).
Thanks to our fast-paced, cutting-edge R&D, we have a number of additional innovative products and patents, touching on nearly every lab environment, from chemical exposure to cryogenic storage and high-heat processes. This includes unique products like the PikaTAG® label applicator that helps reduce label time and effort when using small dot labels and is the only tool that allows labels to be used to identify the interior of indented cap vials. LabTAG also offers specialty DYMO-compatible labels for various applications, as well as radio-frequency identification (RFID) solutions, which are useful for scanning high volumes of samples simultaneously without a direct line-of-sight.
LabTAG by GA International is a leading manufacturer of high-performance specialty labels and a supplier of identification solutions used in research and medical labs as well as healthcare institutions.