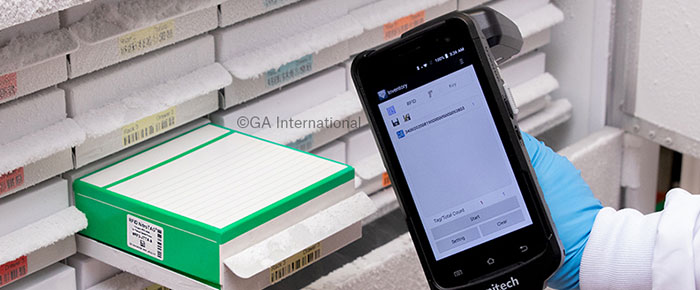 Radio-frequency identification (RFID) has come a long way since the 70s; it's become more prevalent in many areas, including healthcare, pharmaceutical research, and academic laboratories. We've previously explored the benefits of RFID technology, such as its ability to scan multiple items instantly without a direct line-of-sight. One of the most significant areas these advantages may come in handy is cryogenic storage, where you can integrate RFID to meaningfully improve the management of the massive amounts of samples and reagents preserved in liquid nitrogen and low-temperature freezers.
Integrate RFID for increased visibility
The first thing that's immediately noticeable upon integrating an RFID-based system is how visible every sample and reagent is, regardless of where it's stored. The main driver of RFID technology is its ability to scan multiple objects simultaneously without a direct line-of-sight. This means that all inventory can be accounted for instantly and linked to a laboratory information management system (LIMS) or an inventory management system, with the data processed in real time.
The benefits to enhancing visibility are primarily sample and reagent management-related. With the ability to automatically update and validate an inventory, planning for new assays and experiments becomes simpler and faster. Workflows can be constructed around the data and adjusted, as necessary, with only one scan.
Additionally, more data can be stored on RFID chips compared with barcodes (up to 1 kilobyte for most RFID chips). This improves data visibility as every piece of pertinent information can be encoded on the chip.
Reduced freeze-thaw cycles
Cryogenic samples are often tough to manage because re-labeling them can require thawing the sample. There are two ways of re-labeling samples without compromising the integrity of the sample by thawing it:
Apply CryoSTUCK® labels to already frozen vials and tubes under deep-freeze conditions (-80°C), for subsequent storage in cryo conditions, including liquid nitrogen (-196°C). These cryogenic labels are specifically designed to adhere to frozen surfaces. They are available in transparent and blackout formats for over-labeling.
Apply RFID cryo labels, such as RFID NitroTAG®, prior to freezing. The RFID chips can be re-encoded later without removing samples from cryo boxes, thus removing the need to thaw them.
Note that when implementing an RFID system, samples that are currently frozen may also require re-labeling with an appropriate RFID cryo label. For this purpose, RFID CryoSTUCK® labels are available that will allow the addition of RFID chips to these containers without thawing them.
Best of barcodes and RFID
Implementing RFID cryo labels doesn't mean that previous barcode-based systems need to be eliminated. With new technology that allows nearly any label to be generated with an RFID inlay, cryo labels can be outfitted with integrated RFID technology as well as printed with barcodes on the face stock. Employing both systems is as simple as using an RFID printer that will encode and print your labels, and provides additional security in case something goes wrong with either method.
When employing both systems, it's recommended to use a thermal-transfer printer capable of printing barcodes and encoding RFID simultaneously, such as the Zebra ZD621R UHF RFID thermal-transfer printer. Thermal-transfer printouts are generally recommended for cryogenic storage as it provides optimal resistance against extreme temperatures (both high and low) in addition to chemical exposure.
Increased security
An oft-overlooked feature of RFID is its ability to encrypt sample data and encode passwords. This capability is especially important for labs that store patient samples, where information must be kept confidential and secure. With RFID, a system can be set up so that only devices with the correct password can accurately read the correct RFID chips. Barcodes can be used to provide non-critical identifying information for ease of handling. Data can also be further encrypted so that only devices that have proper access can unscramble it. Unless barcodes are implemented alongside RFID, there is no need to remove or block out the label once the sample is no longer needed; the data can be deleted directly from the system, permanently removing the sample's identity without touching the label.
RFID isn't for every lab; though it's recommended to avoid handwriting labels, printing barcodes with a thermal-transfer printer remains an efficient method of managing cryogenic inventories. However, as these inventories continue to grow over time, barcodes may become impractical, as they take time and manpower to scan each individual label. Integrating RFID into your LIMS or inventory management system can revolutionize the way samples are stored, keeping them fresher and more secure than ever while reducing overall costs and ultimately increasing productivity.
LabTAG by GA International is a leading manufacturer of high-performance specialty labels and a supplier of identification solutions used in research and medical labs as well as healthcare institutions.